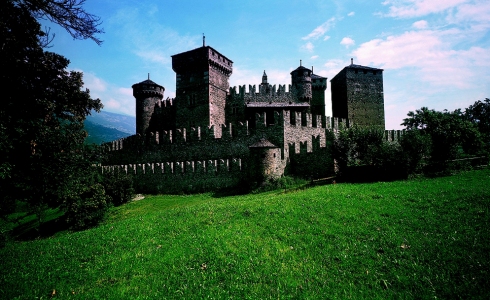 Region:
Piemonte
The name Piemonte means "at the foot of the mountains", which, together with its beautiful location at the foot of the Alps, fits just fine. Besides wine, the region is also known for its truffles and nuts. The capital city is Turin.
Between 1720-1796 and again between 1814-1861, the region was the most important area in the Kingdom of Sardinia. The country was unofficially called Sardinia-Piemonte or Piemonte-Sardinia, until it was incorporated into the Italian unification in 1861.
Perhaps surprisingly for some, Piemonte is just Italy's seventh largest wine region, but what lacks in quantity is found in the highest degree of quality. There is respect for those time-honored traditions that have no equal, not even in comparison to the most popular areas in France.
Most of the wines in the region come from local grape varieties, out of which Nebbiolo is probably the best known. Which wine connoisseur does not react when hearing names such as Barolo or Barbaresco?
Piemonte has 58 DOC/DOCG zones, and out of which 17 wines are DOCG's: Alta Langa, Asti or Moscato d'Asti or Asti Spumante, Barbaresco, Barbera d'Asti, Barbera del Monferrato, Barolo, Brachetto d'Acqui or Acqui, Dogliani, Dolcetto di Diano d'Alba or Diano d'Alba, Dolcetto di Ovada Superiore or Ovada, Erbaluce di Caluso or Caluso, Gattinara, Gavi or Cortese di Gavi, Ghemme, Roero and finally Ruchè di Castagnole Monferrato.
The 42 DOC wine appellations are: Alba, Albugnano, Barbera d'Alba, Boca, Bramaterra, Canavese, Carema, Cisterna d'Asti, Colli Tortonesi, Collina Torinese, Colline Novaresi, Colline Saluzzesi, Cortese dell'Alto Monferrato, Coste della Sesia, Dolcetto d'Acqui, Dolcetto d'Alba, Dolcetto d'Asti, Dolcetto di Ovada, Fara, Freisa d'Asti, Freisa di Chieri, Gabiano, Grignolino d'Asti, Grignolino del Monferrato Casalese, Langhe, Lessona, Loazzolo, Malvasia di Casorzo d'Asti, Malvasia di Castelnuovo don Bosco, Monferrato, Nebbiolo d'Alba, Piemonte, Pinerolese, Rubino di Cantavenna, Sizzano, Strevi, Terre Alfieri, Valli Ossolane, Valsusa and finally Verduno Pelaverga or Verduno.
Approximately 75% of Piemonte's total wine production is DOC or DOCG.
As previously mentioned, Barolo and Barbaresco, the most famous wines in the region, are impressive wines that have undergone major changes in style so their producers are almost divided into two groups: the traditionalists and progressives.
All in all, Barolo and Barbaresco maintained their noble elegance, but in recent years, they have become more accessible in terms of taste. It is no coincidence that the authorities in this field rank Barolo and Barbaresco among the world's greatest red wines.
Half of the wine consumed in Piemonte is produced from the Barbera grape, but the wine from the Dolcetto variety has developed well and is worth keeping an eye on.
Regarding white wines, the most popular in this region is the sparkling Asti Spumante DOCG, made from the Moscato grape. After Champagne, Asti Spumante DOCG is the world's most popular sparkling wine, but there are also other wines worth trying out. And why not the white wine from the Cortese grape, for example, Cortese di Gavi DOCG or the interesting Roero Arneis DOC.
Finally, it is worth mentioning that besides red and white wine, the area is known for producing Vermouth. The most popular producers are Cinzano, Martini and Riccadonna.
Piemonte makes a good business out of its wine tourism and it is clearly the best organized region in this field. Only a two hour drive from Milan, for example, through Langhe and Monferrato hills is very exciting and definitely worth a visit. 
Read more about the wines from Piemonte by clicking i the top menu in the right side.