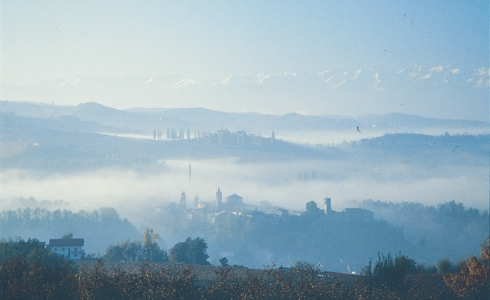 Wine:
Carema Riserva DOC
Facts about this wine
Wine: Red wine
Taste: Dry
Volume: Strong
Min. alcohol: 12%
Mandatory Storage: Min. 3 years
Storage potential: 10 years

Carema Riserva DOC is produced on the same grapes as the other less barrel aged red wine, Carema DOC.
Carema is a small rocky district in the northern part of the region where it borders Valle d'Aosta. The grapes used for this wine are grown preferably on trellises, and there are only a few producers, in fact, only two of real importance.
Carema Riserva DOC is an interesting wine to compare with Barolo DOCG, since it's often the same grape variety used, although the growing conditions are significantly different. Even the grape's name is different as the variety (Nebbiolo) here is called Picutener (85-100%). In Carema, local blue grapes (0-15%) must be added, whereas in Barolo DOCG only Nebbiolo must be used.
The result is an almost garnet red wine, with quite as much body and durability as other Nebbiolo wines. Nevertheless, there are the harsh growing conditions in the stony and rocky area, as well as the long aging in bottle that give Carema Riserva DOC a refined bouquet and taste. The scent is fine and characteristic, the flavor soft, velvety, full-bodied.
Carema Riserva DOC should be aged at least 6-7 years from the harvesting year before drinking, but because of the growing conditions the quality may vary from year to year.
Mandatory aging is 3 years of which 1 year is mandatory in oak- or chestnut barrels starting November 1st in the the year following the harvest.
Great dishes to have with Carema Riserva DOC
Click on a topic to find more wines