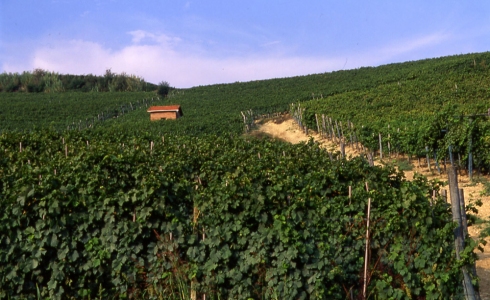 Wine:
Barbera del Monferrato Superiore DOCG
Facts about this wine
Wine: Red wine
Taste: Semi dry
Volume: Medium
Min. alcohol: 13%
Mandatory Storage: Min. 14 mos.
Storage potential: 4 years

Barbera del Monferrato Superiore DOCG is grown, as the name suggests, in the hills of Monferrato, located north and south of the provinces of Asti and Alessandria, that is the same area as the Barbera d'Asti district.
The wine has the same characteristics as Barbera del Monferrato DOC and the grape composition is also identical to that of its brother, namely the grape Barbera (85-100%) and up to 15% Freisa, Grignolio or Dolcetto.
Barbera del Monferrato Superiore DOCG is usually a little lighter wine than other Barbera wines from the Asti and Alba area. It is a fresh red wine which fits perfectly with summer meals but also a little heavier dishes. The locals enjoy this red wine throughout the meal.
The wine has a more or less ruby red, a fruity scent and a flavor which varies from dry to semi sweet, with medium body. The minimum alcohol content is 13%. The storage potential is up to 4 years.
Mandatory aging period is 14 months, starting on November 1st in the harvesting year. Minimum 6 months must be in oak or chestnut barrels.
If the label mentions 'Vigna' followed by the name of a place, it refers to a specific vineyard.
About Barbera (DOC(G) wines
The label always bear the name of the zone where the wine is grown, which includes Barbera d'Alba DOC (depth and texture), Barbera del Monferrato DOC (generally the lightes and most often bubbly), Barbera del Monferrato Superiore (DOCG with greater demands for volume and alcohol) and Barbera d'Asti (DOCG, more accessible and more refined).
Great dishes to have with Barbera del Monferrato Superiore DOCG
Click on a topic to find more wines