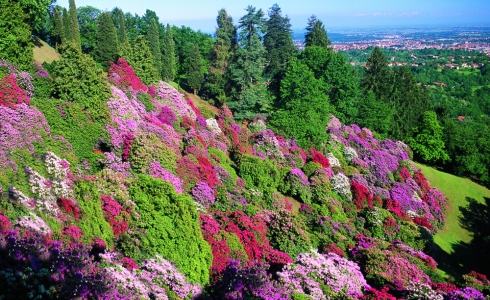 Wine:
Barbera del Monferrato DOC
Facts about this wine
Wine: Red wine
Kind: Fra stille til perlende
Taste: Semi dry
Volume: Medium
Min. alcohol: 11.5%
Storage potential: 2 years

"Waiter, there's something wrong with this red wine," said a suspicious guest after the first sip of the just served Barbera del Monferrato. The reason for the question is understandable, for it is not every day that one tastes a bubbly or vivacious red wine.
Earlier, the above experience was not so uncommon with Barbera del Monferrato DOC, since it was caused by poor vinification. Thus, the little 'pop' when the cork is pulled up has surprised many new-comers to this Monferrato red wine and still does.
Today, it is also possible to enjoy "normal" still wines but even wines with structure and density can be bubbly (Vivace), however, today this "effect" is controlled and deliberately produced by the winemakers. When the barrel-aged Barbera del Monferraro Superiore received its DOCG status in 2008, the excesses were more under control, and the requirements regarding the alcohol content and volume are now subject to strict regulations.
Barbera del Monferrato DOC is grown, as the name suggests, on the hills of Monferrato, located north and south of the provinces of Asti and Alessandria, which covers the same area as Barbera d'Asti DOCG.
In addition to the grape Barbera (85-100%), this red wine may contain up to 15% Freisa, Grignolio or Dolcetto grapes.
Barbera del Monferrato DOC is usually a lighter wine than the other Barbera DOC(G) wines from the Asti and Alba area, but in any case this is a fresh red wine which pairs perfectly with summer meals.
The wine has a more or less ruby red color, a fruity scent and a flavor which varies from dry to semi sweet, with a medium body. The minimum alcohol content is 11.5%. Aging potential is 2 years.
As mentioned, there is also a Barbera del Monferrato Superiore DOCG with longer mandatory aging requirements and higher alcohol content. Finally, a fresh, bubbly Barbera del Monferrato Frizzante DOC is produced. 
About Barbera DOC(G) wines
The label always bears the name of the zone where the wine is grown, which includes Barbera d'Alba DOC (depth and structure), Barbera del Monferrato DOC (generally the lightest and most often bubbly), Barbera del Monferrato Superiore (DOCG with greater demands for volume and alcohol) and Barbera d'Asti (DOCG, more accessible and refined).
Great dishes to have with Barbera del Monferrato DOC

Roast

Mature cheese

White meat
Click on a topic to find more wines