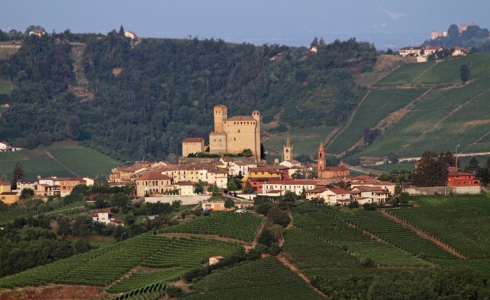 Wine:
Nebbiolo d'Alba DOC
Facts about this wine
Wine: Red wine
Taste: Dry
Volume: Strong
Min. alcohol: 12%
Mandatory Storage: Min. 1 years
Storage potential: 6 years

The red wine Nebbiolo d'Alba is probably the closest thing to a legitimate brother of the big boys from Barolo and Barbaresco , using the same grape, Nebbiolo (100%), this grape being grown partially in the same area as big brothers.
The District Nebbiolo d'Alba is located in the Cuneo province, on both sides of the Tanaro River (except for the area between the towns of Barolo and Barbaresco) and, as the name suggests, also around the town of Alba. Also included zone for Roero DOCG in the production area.
Although it is the Nebbiolo grape that is used in the production of this wine, it does not have the same strength as Barolo and Barbaresco, as this wine is generally lighter in structure and softer than its bigger brothers. However, there are exceptions to the rule, and these wines in a blind tasting would easily pass as Barolo or Barbaresco, but they can be found at a significantly lower price. However, they do not have such a long storage period.
The dry type is aged for one year in barrels, which is when the Nebbiolo grapes appears with its so characteristic nobility and immediate strength, and usually it achieves its best results within 3-6 years, in some cases longer.
The wine has a ruby red color, with a tendency to turn garnet with age. The bouquet is extremely delicate with hints of violets. Nebbiolo d'Alba has good body and fullness, and the taste has light tannins which decrease with age, which is when the wine also becomes softer.
You may encounter a semi-sweet version, which also has fullness and good body. This type forms the basis for the fully sparkling Nebbiolo d'Alba Spumante, which in the dry version is a delightful aperitif. The sweet version, in both the still and sparkling version, pairs perfectly with desserts.
Great dishes to have with Nebbiolo d'Alba DOC
Click on a topic to find more wines