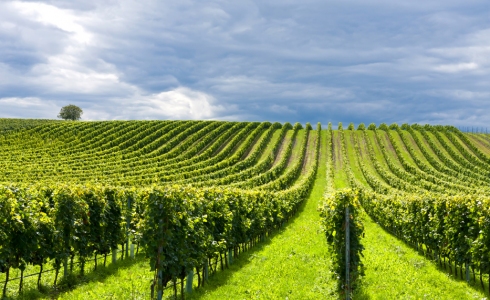 Wine:
Boca DOC
Facts about this wine
Wine: Red wine
Taste: Dry
Volume: Strong
Min. alcohol: 12%
Mandatory Storage: Min. 3 years
Storage potential: Above 10 years

Boca is both a small zone and a rare red wine made from the Nebbiolo grape (locally named Spanna) (70-90%) with Vespolina and Uva Rara (Bonarda Novarese) together or separately (10-30%). Despite its modest size, its roots can be traced back to Roman times.
The wine is grown in the north of Piedmont, along the Sesia River, on the wooded hills of the Novarra province around the towns of Boca, Maggiora, Cavallirio, Prato Sesia and Grignasco.
As a young wine, Boca DOC is robust and aggressive, but after 4-5 years of aging it becomes soft and acquires a scent of violets. The color is clear ruby red with garnet reflections, and the taste is dry, pleasant and balanced with an aftertaste of pomegranates.
If you are lucky to find a bottle from the 1950s, simply let the smile stretch from ear to ear. The Spanna grape (local name for Nebbiolo) is really tenacious and these wines are still a pleasure. Especially from the two wineries, with the circus-sounding names, Vallana and Valloni.
Mandatory aging period strong 34 months, of which 18 months must be in barrels.
A Boca Riserva DOC with a longer, mandatory aging period is also produced.
Great dishes to have with Boca DOC