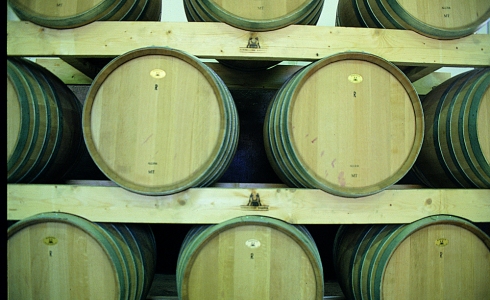 Wine:
Barbaresco DOCG
Facts about this wine
Wine: Red wine
Taste: Dry
Volume: Strong
Min. alcohol: 12.5%
Mandatory Storage: Min. 26 mos.
Storage potential: Above 10 years

Barbaresco, bearing the name of the town located northeast of Alba, was in 1966 among the first wines in Italy, who got its DOC status. In 1980 it received its DOCG.
Nebbiolo, the grape used for Barbaresco DOCG, is grown around the villages of Barbaresco, Treivo and Neive and for several years they were actually known only in the local area and were sold as Vino Nebbiolo or mixed in Barolo. The actual recognition came only in the 1950s, when serious producers such as as Angelo Gaja and Bruno Giacosa showed what great potential this terrific majesty can display. Since then, prices skyrocketed, along with the other producers' serious and tireless efforts.
Despite the major efforts, Barbaresco has partly lived in Barolo's shadow and had the reputation of being lighter than the neighboring wine. Nothing can be more wrong.
Barbaresco is often more elegant than Barolo, almost feminine in expression, and is seen even fuller than its neighbor, but as always in Italy, there may be major differences in the various municipalities and vineyards where microclimates play a very big role in wine anatomy.
In 2007, the DOCG regulations were revised and the production zone divided into smaller units, which were too small to be called subzones. Therefore, they have acquired a geographical suffix that can refer to several vineyards. In such cases, the vineyard's name are mentioned on the label, as for example 'Vigna Martinenga'.
Experiments are still happening with Barbaresco DOCG, Gaja going a bit further in the vinification technique than others. Thus, he started his 'macerazione carbonica' where the grapes are softened in closed steel tanks, after which the must is drained and fermented under temperature control. Ideally, the wine therefore keeps its fruit because the grape, in mint condition and under its own weight, also softens under the pressure of its carbonation. The wine goes through its first and second fermentation, resulting in a fruitier and more fragrant wine, which has also significantly fewer sharp tannins.
Barbaresco DOCG is made from the Nebbiolo grape (100%) in the sub-varieties Michet and Lampia.
Barbaresco, in its best years, is nothing less than fantastic. The color is deep garnet with orange reflections. The scent is vinous, pleasant and intense. The taste is dry, pleasant, very soft, almost perfumed, with a beautiful aftertaste. The wine brilliantly combines the power of Nebbiolo with extraordinary grace.
Mandatory aging period is 26 months starting November 1st of the harvesting year. At least 9 months must be in barrels. 
There is also a Barbaresco Riserva DOCG, which has longer mandatory maturation. 
Great dishes to have with Barbaresco DOCG
Click on a topic to find more wines