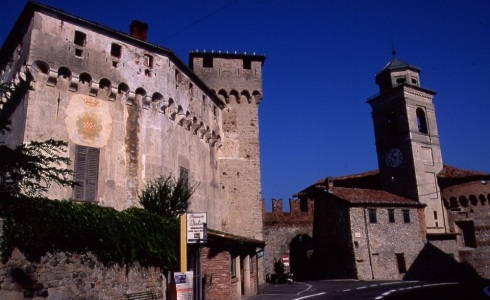 Wine:
Barbera d'Alba Superiore DOC
Facts about this wine
Wine: Red wine
Taste: Dry
Volume: Medium
Min. alcohol: 12.5%
Mandatory Storage: Min. 1 years
Storage potential: 7 years

This red wine is made from the same grapes as the non-barrel aged Barbera d'Alba DOC, meaning the Barbera grape (85-100%) with the permitted addition of the naive Nebbiolo (0-15%).
Barbera d'Alba Superiore DOC is usually the one with the longest shelf life and aging potential. The wine comes from the area around the city of Alba.
Barbera d'Alba Superiore DOC is ruby red wine as young. With age, it becomes more garnet. The scent is fruity, intense and varied while the taste is full-bodied, dry with a touch of refreshing acidity. With aging, it becomes more full and balanced, often with notes of wood in the aftertaste.
Although Barbera d'Alba Superiore DOC is surpassed by Barolo DOCG and Barbaresco DOCG, in the last decade it reached an outstanding level. The producer Angelo Gaja has taken the lead in the development and created the complex, round and very interesting 'Barbera Vignarey'. The wine is aged in barrels, a successful technique since it's now imitated by several producers. However, many producers still prefer the most common methods by using steel or concrete tanks.
The mandatory aging period is 1 year starting on November 1st of the harvesting year. A minimum of 4 months in barrels is required and the wine must contain a minimum of 12,5% alcohol. The storage potential is 7 years.
To be enjoyed with the local stew 'Bolliti', sausages, semi matured cheese and gorgonzola.
If the label mentions 'Vigna' followed by the name of a place, it refers to a specific vineyard.
About Barbera DOC(G) wines
The label always bears the name of the zone where the wine is grown, which includes Barbera d'Alba DOC (depth and structure), Barbera del Monferrato DOC (generally the lightest and most often bubbly), Barbera del Monferrato Superiore (DOCG with greater demands for volume and alcohol) and Barbera d'Asti (DOCG, more accessible and refined).
Great dishes to have with Barbera d'Alba Superiore DOC
Click on a topic to find more wines