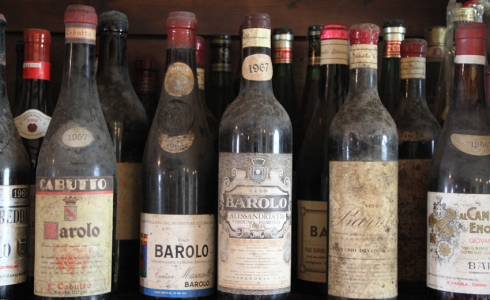 Wine:
Barolo DOCG
Facts about this wine
Wine: Red wine
Taste: Dry
Volume: Strong
Min. alcohol: 13%
Mandatory Storage: Min. 38 mos.
Storage potential: Above 10 years

Barolo is grown around the town bearing the same name and is probably the most famous and most celebrated wine in Italy. Not without reason it was called, in the 19th century, for 'The wine of kings, the King of Wines '. It is produced from the Nebbiolo grape (100%) and grown in a relatively small area in the Langhe vineyards southeast of Alba, Barolo municipality, in the Cuneo province.
Historically, Barolo dates back to the 17th century, where it is mentioned in a correspondence between the Savoy's ambassador in London (Piedmont was part of the Savoy at the time) and some English merchants. In the letters, the wine was called 'Barol'.
The creation of the wine Barolo is attributed to Tancredi Faletti, also called Marchesi di Barolo, who in 1300 owned large parts of the current Barolo district. The family's last heir, Carlo Faletti di Barolo married a Parisian woman, but when Carlo died, his widow collaborated first with an Italian oenologist and later a French, which was the first attempts to create the Barolo wine.
The term 'Wine of Kings' came later to fit quite well, when Carlo Alberto of Savoy (1798-1849), King of Sardinia and Piedmont, entered the wine scene after being abdicated from the throne in 1849. Carlo then bought a farm in Verduno, primarily as a hunting residence, but the property also had vineyards, and the production started.
Carlo Alberto's son, Vittorio Emanuele II, the first king of the Italian Unification (1861) in addition to being a politician, he was also happily married with the young peasant girl, Rosa Vercellana, whom he appointed to the Countess of Mirafiori and Fontanafredda.
The couple's son, Count Emanuele di Guerrierri Mirafiore, began the production of what we today know as Barolo, and today Fontanafredda is one of the dominant Barolo houses in Piedmont and a beautiful place to visit.
Barolo was for long a cult wine and was consequently reserved to a small circle of wine lovers, but much has been done to make it more accessible. The wine has a distinctive resilience and complex character which does not appeal to all people. In addition, the wine's complexity and harsh tannins may seem extreme to many, but after learning to know the wine, it opens a very wide palette of flavors.
Generally, Barolo DOCG requires several years to soften its tough tannins. Aging changes the wine, however, the character and the aforementioned palette are great. Barolo has an almost harsh ruggedness and intense concentration of fruit which makes it comfortably enjoyable well over 10 years. During this period, it changes its color from deep ruby to garnet toward brick red, and it refines its bouquet.
Interestingly, Barolo DOCG lost at some point foothold of the domestic market, while in return won many supporters in northern Europe, but in the last decade, a number of serious producers, through new techniques and vinification, managed to provide the wine market with a Barolo which is rounder, softer and more accessible than before.
The fragrance is intense and varied, ethereal and extremely pleasant. The taste is dry, full-bodied, robust and almost spartan in its expression, yet soft, pleasant and balanced.
Barolo DOCG has a mandatory minimum aging period of 38 months, of which 18 months must be in oak or chestnut barrels. A minimum of 13% alcohol content is mandatory.
A Barolo Riserva DOCG, with a longer, mandatory aging period, is also available.
The vintage is very important in Barolo and a rather strict approach to production has meant the the quality has increased significantly over the years. Therefore, manufacturers are also consistent. An example is the 1972 vintage which was a very bad year in the district, so it was decided not to produce one bottle of Barolo that year.
The production is concentrated around the towns of Castiglione Faletto, Monforte d'Alba and Serralunga d'Alba (the very full-bodied), La Morra (the elegant) and the city of Barolo (where producers insists that they produce both aforementioned types).
Barolo DOCG is often compared with Barbaresco DOCG, though many believe that Barolo, with age, differs from its cousin gaining in strength, power and durability, and perhaps also in style and finesse. This is a debate that will surely continue for many years.
As a curiosity, there is permission to produce a Barolo Chinato, an aromatic aperitif-type, which involves the addition of herbs but based on the production of the Barolo DOCG red wine.
Storing potential is 10-15 years or more, depending on the vintage.
Great dishes to have with Barolo DOCG