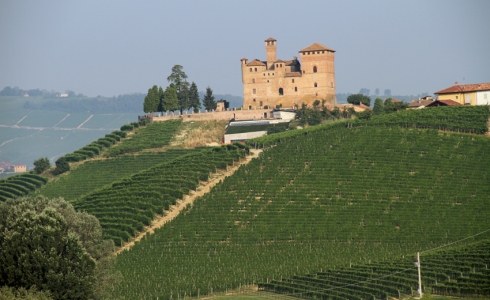 Wine:
Ruché di Castagnole Monferrato DOCG
Facts about this wine
Wine: Red wine
Taste: Semi dry
Volume: Medium
Min. alcohol: 12.5%
Storage potential: 5 years

The origin of this red wine is almost impossible to present, as there is practically no documentation available. Its history can be reconstructed on the basis of oral traditions passed on from mouth to mouth, from generation to generation.
One thing is however fairly sure and that is that the origin of the Ruché grape lies in the hills northwest of Asti. The area, formerly known under the name Castagnolis Casalensis, today belongs to the municipality of Castagnole Monferrato and the production area includes the towns of Montemagno, Grana, Portacomaro, Refrancore, Scurzolengo and Viarigi.
The most accepted hypothesis of the origin of the grape name, Ruché, is that it comes from 'roncet', a term used locally on a degenerative grape-infectious disease that this variety is more resistant to than other grapes grown in the district, such as Barbera and Grignolino.
Ruché is completely different than other grapes in Piedmont although it may remind you of the Brachetto variety. It is best when grown in dry, sunny and calcareous soils, and cultivated only in this limited district.
Ruché di Castagnole Monferrato received its DOCG status in late 2010 and is made from the Ruché grape (90-100%) with the permitted addition of Barbera and / or Brachetto grapes (0-10%).
The result is a ruby red wine with light violet reflections sometimes also tending to the orange. The aroma is intense, persistent, slightly aromatic, fruity, even spiced with adequate aging. The taste is dry, round, harmonious, sometimes slightly tannic, with medium body and a light aromatic aftertaste, sometimes with hints of wood from the barrel aging. Sometimes, the nose is similar to Brachetto d'Acqui DOCG.
Ruché di Castagnole Monferrato DOCG is enjoyed with most light meals or antipasti.
If 'Vigna' is mentioned on the label followed by a name, it's referring to a specific vineyard that has a planting age of at least 3 years.
Great dishes to have with Ruché di Castagnole Monferrato DOCG

White meat

Pasta

Antipasti
Click on a topic to find more wines