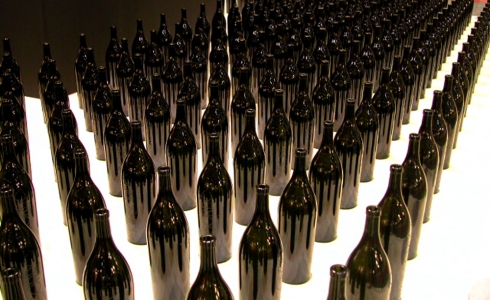 Wine:
Barbera d'Asti DOCG
Facts about this wine
Wine: Red wine
Taste: Dry
Volume: Medium
Min. alcohol: 12%
Mandatory Storage: Min. 1 years
Storage potential: 4 years

Barbera d'Asti received its DOC classification back in 1970 and has since seen several of the neighboring wines rise in the hierarchy of the Italian classification system, but in 2008 the Asti red wine finally obtained its own DOCG.
Barbera d'Asti DOCG is an extremely robust and powerful red wine but seems less acidic than its cousin Barbera d'Alba DOC. Some producers make wines meant to be drunk young, but with a little diligence, it is possible to find more tenacious Barbera wines that can be stored for 5 years or even a decade or more.
Barbera d'Asti DOC got its real breakthrough thanks to the producer Giacomo Bologna, who introduced his barrel-aged 'Bricco del Uccellone' in the early 1980s. This exciting wine was later followed by Barbera d'Asti 'Montebruna' DOCG from the vineyard Bricco della Bigotta in Rocchetta Tanaro. These are fairly pricey but incredibly exciting Barbera wines.
As already hinted, the Barbera d'Asti DOCG wine is made from the grape bearing the same name, Barbera (90-100%), with the permitted addition of other local red grapes (0-10%).
As a young wine, Barbera d'Asti DOCG has a ruby color, then with age goes it turns to garnet red. The aroma is fruity with a characteristic vinous bouquet that becomes more ethereal with age. The taste is dry and becomes richer with aging. Overall, Barbera d'Asti DOCG becomes more harmonious, appealing and tasteful with aging. In general, the area enjoys the presence of strong, well-structured wines, however, from a zone so vast that it is quite challenging to define a certain style.
Often the vineyard may be mentioned on the label as "Vigna" followed by the name of the vineyard.
The mandatory aging period is 4 months starting with November 1st of the harvesting year. It is permitted to barrel-age the wine, but this is not a requirement. The minimum alcohol content is 12%. Storing potential is 4 years or more.
To be enjoyed with sausages, vegetables dipped in 'Bagna Cauda' (sauce of oil, butter, anchovies and garlic) as well as with semi-hard cheese or gorgonzola.
From the same grape composition there is also produced a barrel-aged type, Barbera d'Asti Superiore DOCG which demands longer aging. This type is also produced in the three so-called subzones, "Nizza", "Tinella" and "Colli Astiani" (or Astiano), which are limited areas with distinctive cultural and wine-making characteristics.
About Barbera DOC(G) wines
The label always bears the name of the zone where the wine is grown, which includes Barbera d'Alba DOC (depth and structure), Barbera del Monferrato DOC (generally the lightest and most often bubbly), Barbera del Monferrato Superiore (DOCG with greater demands for volume and alcohol) and Barbera d'Asti (DOCG, more accessible and refined).
Great dishes to have with Barbera d'Asti DOCG