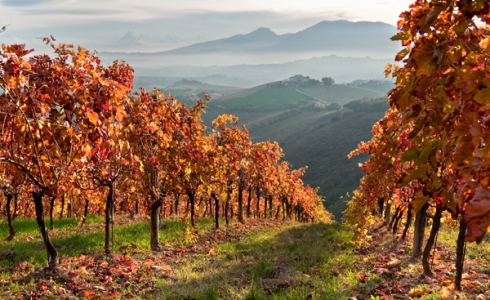 Wine:
Brachetto d'Acqui Passito DOCG
Facts about this wine
Wine: Red wine
Kind: Sweet wine
Kind: Vivace
Taste: Sweet
Volume: Medium
Min. alcohol: 16%
Storage potential: Above 10 years

This red dessert wine is produced on the same grapes as the semi-sparkling Brachetto d'Acqui DOCG, and as the case with the aforementioned, it is an excellent, unique and overwhelming wine.
The production area for the Brachetto d'Acqui DOCG wines partially overlaps the area of Moscato d'Asti, but it does not cover as many hectares. The vines are centered around the town of Acqui and its municipality includes a hilly area in seven municipalities in the Alessandria province as well as some of Nizza Monferrato in the Asti province.
The grape used is Brachetto (97-100%) with the permitted addition of local, red varieties (0-3%). After harvesting, the grapes are drying outdoors before the pressing. The must thus becomes almost pure syrup and ferments for months.
The result is an overwhelming, extremely complex and concentrated wine with a wonderful aroma of roses and strawberries. The color is ruby red of medium intensity sometimes tending to garnet. The scent has a musky aroma, very delicate, characteristic of the Brachetto vine, sometimes with a hint of wood. The taste is sweet with a musky aroma, harmonious, velvety, sometimes also with a hint of wood.
Brachetto d'Acqui Passito DOCG is released on the market on October 1st of the year following the harvest.
It can be stored for 100 years but who wants to do that? However, Brachetto d'Acqui Passito DOC is rarely seen because it is quite difficult to produce and therefore unprofitable for farmers.
Locally, it's served chilled with creamy cakes, herbal cheese or with desserts.
On the same grapes, a sparkling Brachetto d'Acqui Spumante DOCG is produced.
Great dishes to have with Brachetto d'Acqui Passito DOCG

Dessert

Quiet moments
Click on a topic to find more wines