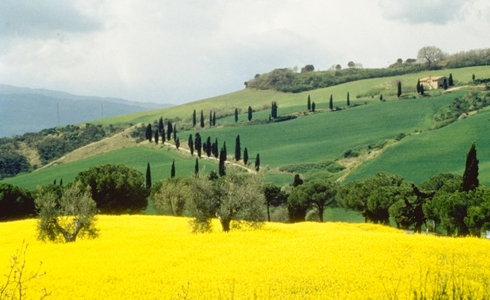 Region:
Tuscany
Tuscany is a story of a tragedy that became a success.
After decades of feeling that it was sufficient to send millions of fiascos with inconsequential Chianti across her borders, Tuscany has changed its status to one of Italy's most dynamic and innovative wine regions.
The first changes happened in the gentle hills around Siena and Florence, where the producers were the first to recognize that something had to be done to prevent the region's wine production from ending in something completely hopeless and behind the times.
The changes were welcomed and occurred at the fiasco's expense. Chianti is still the backbone of Tuscany's wine production, but the quality has increased significantly. Other great wines have also surfaced, and wines such as Brunello di Montalcino, Vino Nobile di Montepulciano and so-called "Super Tuscans" have received special attention.
Historically speaking, Tuscany can trace its wine tradition back to the Etruscans, who ran a flowering wine trade with Rome. Later the monks resumed wine cultivation, and wine became a natural part of everyday life. The Renaissance's expansion from Florence and up through Europe increased knowledge of the region's wine, and wine began to be exported, and went by names like, 'Red Florence' and 'Vino Santo'.
In 1716, The Grand Duke of Tuscany selected what most likely became Europe's first official wine districts, namely Carmignano, Chianti, Pomino and Val d'Arno di Sopra. New, advanced vinification methods were taken up, as well as a new fermentation technique and aging, which was something completely unheard of at that time.
Despite Baron Bettino Ricasoli's new methods for producing Chianti (1834-72) and Ferruccio Biondi Santi's completely new wine type, Brunello di Montalcino, the French still took the lead in the 19th century wine world. The Tuscans didn't keep up the fight, and quality declined and became, along with the fiascos, practically the definition of mass production of ordinary table wine.
Salvation came much later and was due in no small part to the DOCG classification's quality requirements. They resulted in the abolition of large, over production, and they helped the best Chiantis back on the road to recognition. The result is that Tuscany now has 6 of Italy's 35 DOCG wine types.
Tuscany is also the region that has managed to produce a bonified cult wine, namely The Super Tuscan 'Sassicaia' from Tenuta San Guido. This pure Cabernet wine, that with its 1968 vintage burst into the elite group amongst the great Bordeaux wines, has since produced fantastic results. Not to mention that this tremendous wine showed that Italy could deliver elegant red wines of extraordinary quality beyond Barolo and Brunello di Montalcino.
Despite its undisputed high quality, Sassicaia, the mother of all Super Tuscans, spent a long time without an "official status" and was thus classified as a regular table wine, VdT (Vino da Tavola). In 1983, it received its "official" recognition and, at the same time, its own private appellation, Bolgheri DOC. In addition to Sassicaia, we should also the Super Tuscan Tignanello, from the Antinoris Santa Christina vineyard.
A large part of production still surrounds Super Tuscans, which are wines outside DOC(G). As is the case with Sassicaia, these wines were formerly classified as VdT, where there was a lot of room for glorious anarchy.
It was therefore the Super Tuscans that stole all the headlines, but these stalwarts also inspired other producers to tighten up, resulting in a general increase in quality throughout the entire region.
The Super Tuscans rebellious movement ended in 1995, when the wine category, IGT (Indicazione Geografica Tipica), became a reality. The time was over when you could write the vintage, grape variety and region on the label of a VDT wine. Table wine should be table wine, and this forced the ambitious wine producers over into the new category.
The quality of the Super Tuscans is still increasing, and IGT gives producers a great deal of freedom regarding the grapes' geographical origin. For example, you can blend grapes from different zones, which produces exciting results.
On the grape side, the so-called international grape varieties Cabernet Sauvignon, Cabernet Franc, Merlot, Pinot Nero (Noir) and Syrah have existed in Tuscany for more than 250 years, but now they are now used more frequently than before, especially as blending partners to the region's elegant Sangiovese grape, where they add more complexity and a better structure.
The white wines play a minor role in Tuscany. The wines are quite good, but also very neutral. Vernaccia di San Gimignano is probably the most well-known white wine, but there are also interesting results with the Vermentino and Inzolia grapes (Ansonica), especially in the southern part of Tuscany. Trebbiano and Malvasia are also widely used.
Wine tourists can look forward to a lavish landscape, with soft green hills and tons of vineyards, where there is ample opportunity for tasting. Italy's national wine library, Enoteca Italiana, is also located in Florence, and is definitely worth a visit.
There is also an enoteca for Brunello in Montalcino, and the many interesting wine sellers in this region are deserving of a chapter of their own. You can also try Enoteca Gallo Nero in Greve, that sells almost all of the Chiantis available in the region.
Read more about the wines from Tuscany by clicking i the top menu in the right side.