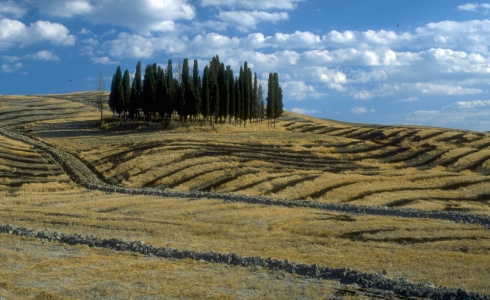 Wine:
Morellino di Scansano DOCG
Facts about this wine
Wine: Red wine
Taste: Dry
Volume: Strong
Min. alcohol: 12.5%

The Grosseto province is known for its fashionable coastal area, Maremma, by the peninsula, Monte Argentario, but it's in the hills behind, where we find the real Maremma. Here the wild boars have reigned since the time of the Etruscans, and you can still find lonely, remote cities.
There's not much in the history books about Scansano, except for the fact that a little Frenchman named Napoleon reportedly wandered by with his army in 1815, after having lived in exile on the nearby island of Elba. However, he had a rather short stay, since he had an appointment to retake the throne in France in 100 days.
The zone is named for the little city, Scansano, and the name Morellino (little black) is the local name for a clown of the Sangiovese grape (85-100%), which is used in the wine. Up to 15% local, red grapes may also be added, and the vineyards are primarily located between the rivers Ombrone and Albenga.
Morellino di Scansano DOCG is a wine of distinct character, and it's a type that within the recent years has received a great deal of attention on the market, culminating in 2006, when it received its DOCG.
Type-wise the Morellino di Scansano DOCG varies from the elegant to the powerful and a bit heavy, but in contrast to the other Sangiovese wines from Tuscany, it's ready to drink within a very short timeframe.
Morellino di Scansano DOCG is to begin with ruby red with a tendency towards garnet with aging. It has a large bouquet and a warm, slightly tight and lightly robust taste. The aroma is vinous, and with age becomes more ethereal, intense and fine. After about 5 years, it develops a long finish, with a light, pleasant acidity.
There is also Morellino di Scansano Riserva, where the requirement is 13% alcohol concentration and at least 2 years' aging in oak barrels, starting after January 1 of the year after the harvest.
More of the large, Tuscan wineries have lavished their attention on the area, and have planted large vineyards, so we will no doubt be seeing a lot more of Morellino di Scansano DOCG in the future.
Mandatory aging: Reserve 2 years