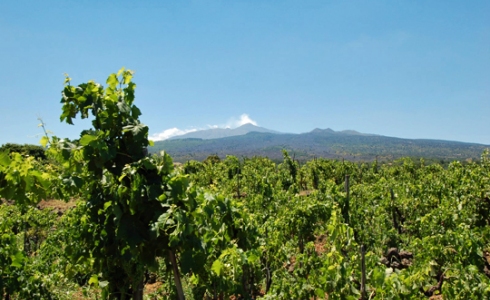 Region:
Sicilia
If you envision Sicily as an independent country, it would have the world's seventh largest wine production, but despite the large quantities, the quality is high and steadily increasing. Today, Sicily has Italy's third-largest wine production, and the island's wine is Southern Italy's most stable in terms of quality.
After a period of focusing on the more powerful types, there is a growing tendency for producers to return to the old virtues of lighter wines that earned the island its well-deserved reputation.
Greeks, Arabs, Normans, Spaniards, Phoenicians, Romans, Saracens, Piedmontese, Swabians and many other peoples have made their mark on the island. Large Grecian ruins at Syracuse, Agrigento and Erice are comfortably close to the good wine areas, and the Greeks have also influenced the wines.
Exciting wines are grown on the slopes of the active volcano, Etna, and the likewise volcanic Aeolian islands north of Sicily also have interesting wines, where primary emphasis is placed on the sweet varieties.
Sicily has 22 DOC types, 1 DOCG and 7 IGT, yet the DOC(G)-classified wines only make up approx. 2-3% of the total production. As regards volume, the IGT wines dominate, and the primary production comes from cooperatives, which historically-speaking came about as a result of hard times, where farmers were very poor and traditionally oppressed by the estate owners.
Up until 1995, Sicily was known for its production of enormous quantities of anonymous wine that practically left the island in tankers and was sent northbound to the vermouth industries. France also piggybacked on the powerful cases from the South. They added juice and power to their own wines, a fact that they haven't really advertised.
Even though a lot of wine is produced and financed with the help from the little uncle in the EU, thankfully more and more serious, private producers are showing up, and their focus isn't just on quantity, but also on quality. The Etna DOC especially is on the way up.
The fortified wine, Marsala, represents the island's largest DOC production. You're probably familiar with this sweet wine in connection with cooking. After a period of average quality, this type is on the rise, as are the dessert wines, Moscato di Pantellaria and Malvasia delle Libari, which have both shown exciting potential.
However, some of the most interesting producers aren't found among the DOC wines. It's worth trying Corvo from Duca di Salaparuta, a winery that has produced top wine for decades. Or try the red Regaleali from the Tasca d'Almerita family.
Read more about the wines from Sicilia by clicking i the top menu in the right side.