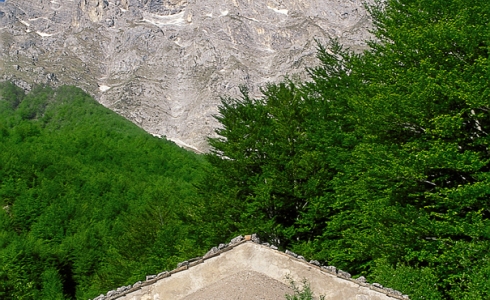 Region:
Abruzzo
It's unknown where the name Abruzzo comes from, but after the fall of the Roman Empire, the region's land areas were subjected to a number of dynasties, and for several hundred years they were ruled from the south as a part of the Napoli kingdom. As late as 1963, the region had the name, Abruzzi, which referred to the time under Napoli, where the southern neighbour region Molise was also incorporated. Today, the two regions still has close connections.
With the unification of Italy in 1861, the region went from being the northern part of the Neapolitan province to being an independent Mid-Italian region.
The wine production in Abruzzo offers fantastic opportunities, and these are used to position the area as the most productive wine region in Central Italy. As opposed to the other regions that practically vie for registering DOC wines, this region has in many years only had two denominations, Montepulciano d'Abruzzo DOC and Trebbiano d'Abruzzo DOC, which cover practically all the suitable areas in the region.
During the 1990s, producers in the northern province, Teramo, attempted to gain recognition for their Colline Termane red wine as a Montepulciano d'Abruzzo sub-zone. This was quickly followed up with a DOC registration of the little zone, Controguerra, and in this northern corner of the region one can sense a more innovative approach to wine production. This is especially evident in the red wine Montepulciano d'Abruzzo Colline Teramane which gained DOCG status in 2003.
The micro climate in Abruzzo's sun-soaked mountainside is a chapter in itself. It varies from snow-covered alpine to warm coastal climates, so there is a real possibility of finding a zone for whatever type of wine production your heart may desire.
Abruzzo has Italy's fifth-largest wine production, and the region's producers previously focused on quantity more than quality. In fact, they were grape growers, not winegrowers, but now a new generation of more innovative enthusiasts has kickstarted serious production that points to a bright future.
Despite extremely large operations, some of the bigger cooperatives have managed to elevate themselves considerably over the average, such as Casal Thaulero and Cantina Tollo. One of the smaller, very serious examples is Edoardo Valentini with his renown Montepulciano d'Abruzzo DOC and the golden white wine Trebbiano d'Abruzzo DOC. Unfortunately, Valentini died in 2006, but his son, Francesco, continues to run the winery very efficiently.
Finally, Gianni Masciarelli has distinguished himself to an exceptional degree, with his two red wines Montepulciano d'Abruzzo Marina Cvetic DOC and Villa Gemma, but he also died far too soon in 2008, at an age of only 52.
Read more about the wines from Abruzzo by clicking i the top menu in the right side.