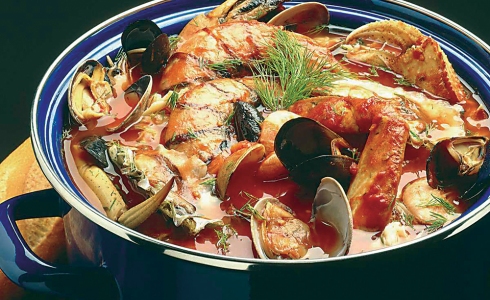 Wine:
Montepulciano d'Abruzzo DOC
Facts about this wine
Wine: Red wine
Taste: Dry
Volume: Strong
Min. alcohol: 12%
Mandatory Storage: Min. 4 mos.
Storage potential: 5 years

The production zone for Montepulciano d'Abruzzo DOC covers all four provinces in Abruzzo and therefore encompasses a rather large area from the coastline and up towards the Apennine mountain range, together with a little area that borders the neighboring region, Lazio.
Montepulciano d'Abruzzo DOC is an extremely popular wine and is, for the same reason, Italy's most-produced DOC(G)-wine. Yet, the level of quality seen in the most common varieties doesn't quite reflect the grape's true potential. The price/quality rule applies here as well.
Usually, Montepulciano d'Abruzzo DOC as a robust and fruit dominated red wine, but it ranges widely in quality. However, in the hands of serious producers it's fully in line with other Italian and international top wines. Thus, certain producers have managed to get both excellence, finesse and complexity out of this type.
One of the methods discovered involves an aging process that softens the Montepulciano grape's slightly robust character. For this same reason, producers have instituted aging requirements for this type in the subzones of Terre dei Vestini and Terre di Casauria.
The wine is produced on the Montepulciano grape (85-100%) with permission to add up to 15% non-aromatic grape varieties. When it's young, the wine can be quite powerful, robust, and sometimes even majestic in its expression.
Montepulciano d'Abruzzo DOC is deep ruby red with glimpses of violet. The taste has plenty of tannins, yet their rounded off with a softness rarely seen in Central Italian wines. The aroma is dry, vinous, inviting and a bit tannic.
The wine must have a minimum alcohol concentration of 12% and is aged until March 31 the year after the harvest.
There is also a barrel-aged Montepulciano d'Abruzzo Riserva DOC.
A little footnote about a common mistake: Montepulciano d'Abruzzo DOC doesn't have anything to do with Montepulciano in Toscana. In Abruzzo, Montepulciano is the name of the grape, in Tuscany it's the name of a town.
Great dishes to have with Montepulciano d'Abruzzo DOC
Click on a topic to find more wines