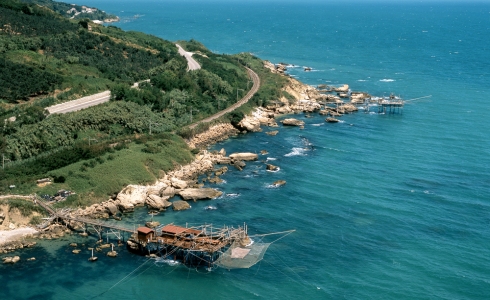 Wine:
Montepulciano d'Abruzzo Colline Teramane Riserva DOCG
Facts about this wine
Wine: Red wine
Taste: Dry
Volume: Strong
Min. alcohol: 12.5%
Mandatory Storage: Min. 3 years
Storage potential: 10 years

This red wine is produced out of the same grapes as Montepulciano d'Abruzzo Colline Teramane DOCG, which is synonymous with the grape Montepulciano (90-100%) with permission to add Sangiovese (0-10%).
With Montepulciano d'Abruzzo Colline Teramane Riserva DOCG, the producers have really managed to tighten the quality of the far too dominating and powerful Montepulciano grape. The wine has an intense ruby red color, with hints of violet. With age, it matures to a fine granate red. The aroma is distinctive, etherial and intense, while the taste is dry, ample, robust, harmonious and velvety.
The minimum alcohol concentration is 12.5% and there is a mandatory aging period of 3 years, where a minimum of 1 year should be in an oak or chestnut barrels, followed by 6 months of refining in the bottle. The aging period is calculated from November 1 in the harvest year.
The wine goes perfectly with grilled dishes.
For many years, producers in the northern corner of Abruzzo, in the Teramo province by the border to the neighboring region Marche, have tried to tighten up the quality of the dominating, powerful grape of the region, Montepulciano.
Note:
Since 1995, the Colline Teramane zone has had its own independent DOC appellation but in 2003 it received Abruzzo's first and, until now, only DOCG classification. The regulations have been tightened and is therefore different from the other areas' use of Montepulciano grapes, e.g. the addition of other local grapes in the wine. Some will undoubtedly feel that this type has finally received a much-needed upgrade.
The wines from this zone has been known for high quality, but after being elevated to DOCG, the amount of quality wine has increased considerably. 
It's not immediately easy to identify exactly the areas where the wine from Colline Teramane DOCG distinguishes itself from the "old" traditional Montepulciano wine, but they seem darker in style, dense and more structured than their DOC cousins.
One of the reasons for the differences can be the local vine-training systems and reduced yield per hectare. Others believe that the areas' soil could play a role, but that is yet to be determined.
Great dishes to have with Montepulciano d'Abruzzo Colline Teramane Riserva DOCG