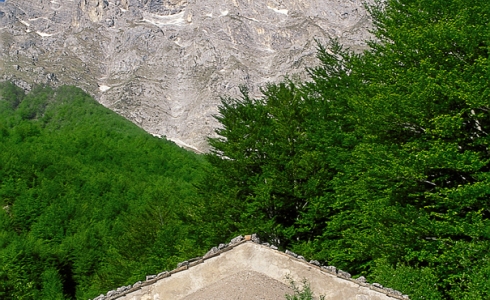 Wine:
Montepulciano d'Abruzzo Riserva DOC
Facts about this wine
Wine: Red wine
Taste: Dry
Volume: Strong
Min. alcohol: 12.5%
Mandatory Storage: Min. 2 years
Storage potential: 7 years

The production zone for Montepulciano d'Abruzzo Riserva DOC is the same as for the Montepulciano d'Abruzzo DOC, namely Montepulciano (85-100%) with permission to add up to 15% non-aromatic grape varieties.
Montepulciano d'Abruzzo Riserva DOC is an intense ruby red with streaks of violet and a taste of fruit, spices and plenty of tannins, though they are rounded off with a softness that's rarely seen in wines from Central Italy. The aroma is dry, vinuous, inviting and likewise a bit tannic. All in all, this is a softer, less aggressive wine than the non barrel-aged variety.
Montepulciano d'Abruzzo Riserva DOC must have a 12.5% alcohol concentration and mandatory aging period of 2 years of which a minimum of 9 months should be in a wood barrel, calculated from November 1 of the harvest year.
The Riserva is superbly suited for grill dishes.
Finally, a little footnote about the often widespread confusion: Montepulciano d'Abruzzo has nothing to do with Montepulciano in Tuscany. In Abruzzo, Montepulciano is the name of the grape, in Tuscany it's the name of a town.
Great dishes to have with Montepulciano d'Abruzzo Riserva DOC