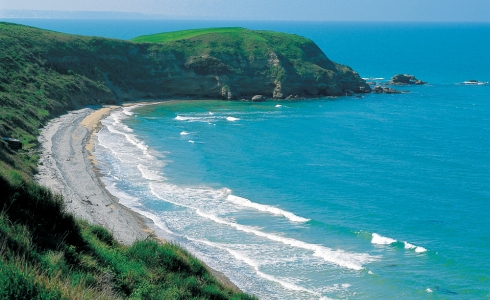 Wine:
Trebbiano d'Abruzzo DOC
Facts about this wine
Wine: White wine
Taste: Dry
Volume: Medium
Min. alcohol: 11%
Storage potential: No saving potential

Trebbiano d'Abruzzo DOC is grown in a rather large area in Abruzzo's four provinces l'Aquila, Chieti, Pescara og Teramo. The vineyards are hilly, and wine from the slopes that are facing the sea is especially valued.
Trebbiano d'Abruzzo DOC is a white wine cultivated using the grape Trebbiano d'Abruzzo (local Bombino Bianco) and/or Trebbiano Toscano (85-100%) together with other local, green varieties.
The wine is produced in very large quantities, but most of these straw yellow white wines are stereotypes and lack a big personality. A significant reason for this is the large harvest, which makes it almost impossible to add any character to the wine. Nonetheless, if you drink it young and cold, it goes down fine with the region's many exciting fish dishes.
Most of the Trebbiano d'Abruzzo DOC available fits the aforementioned description, however, in recent years, serious producers have headed towards far more: color, rich aromas, body, lengths of flavour, concentration and capacity to age. In those cases, the Trebbiano grapes show a whole new side of themselves, and the resulting wines can be compared with the best white wines from Burgundy. A good place to start is the Trebbiano d'Abruzzo DOC from Masciarelli.
Trebbiano d'Abruzzo DOC is a good example of the adage: there are exceptions to every rule. And the increasing amount of decent white wines made from this grape prove that, in the right hands, it can yield an elegant, interesting wine.
Generally, the color is straw yellow and the wine has a vinous, but neutral aroma. The taste is dry, pleasant, soft and harmonious.
Great dishes to have with Trebbiano d'Abruzzo DOC
Click on a topic to find more wines