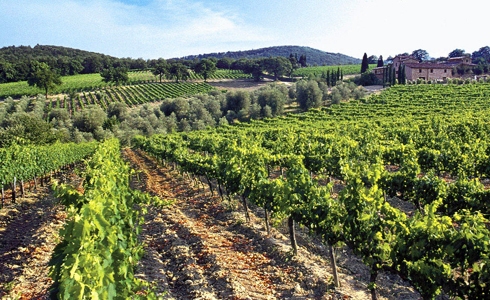 Wine:
Brunello di Montalcino DOCG
Facts about this wine
Wine: Red wine
Taste: Dry
Volume: Strong
Min. alcohol: 12.5%
Mandatory Storage: Min. 4 years
Storage potential: Above 10 years

"Fantastic!" That's the spontaneous reaction after tasting this king among the world's red wines. Brunello di Montalcino is always a tremendous experience, and is regarded as being among Italy's most prestigious red wines, along the lines of Barbaresco, Barolo, Sassicaia, Sagrantino di Montefalco and others of similar caliber.
The well-known wine family, Biondi Santi, claim that they have first rights to Brunello. And they aren't entirely wrong. As early as 1888 and 1891, Ferruccio Biondi Santi cultivated a clone from the Sangiovese grape, Sangioveto Grosso, but the actual foundation was laid by his grandfather, Clemente Santi, who won the "Vino Rosso Scelto" prize with one of the first of these types way back in 1865. Early in the 1900s, Ferruccio's son, Tancredi, carried on the Brunello name and established the high quality we know today.
It's interesting to note that at no time was Brunello pushed forward to what it is today. On the contrary, the wine's development occurred gently and gradually. The real breakthrough came first in the youngest generation, when Trancredi's son, Franco Biondi Santi, slowly raised the prices to a level where the world suddenly began to notice that something interesting was going on there.
The wines were received with excitement and admiration, praised for their power and shelf life, but often criticized for their prices. However, compared to the expensive French wines of the same caliber, you don't pay a penny too much for these wines. Should anyone wish to make an offer, Biondi Santi still has bottles from the 1888 and 1891 vintages in the cellar.
Brunello di Montalcino is grown in the Siena province, around the beautifully situated city and medieval fortress, Montalcino. The wine is produced from 100% Sangiovese (locally Brunello) and is a powerfully structured wine, which matures in the barrel and bottle and ends up as an ample, tasty, slightly tannic, robust, deep ruby to brick red wine with a complex bouquet and long shelf life.
If the price has you hesitating, there are good explanations for it, one of which is the nearly fanatical production process. They experiment with chestnut, Slavonic oak, botti and barriques for barrel aging, and the actual work in the fields is just as involved. All of this costs money, but fortunately all of that work can be tasted in the finished product.
Prior to 1997, Brunello di Montalcino needed to age in the barrel for 3½ years, but greater skill and creativity has meant that they can make do with 2 years in oak barrels, followed by 4 months in the bottle. The total aging period is 4 years.
The cheaper alternative, Rosso di Montalcino, has helped many producers improve their business and, at the same time, given more parsimonious customers a sense of Brunello di Montalcino's greatness. The Rosso doesn't need the same long aging period as its big brother. Some oenologists believe that Brunello has triumphed with the shorter aging period, since the wines apparently had a tendency to peak too soon due to the longer aging time.
Finally, there is also a longer aged Brunello di Montalcino Riserva DOCG, where the mandatory aging period is 5 years, of which 24 months are in oak barrels and 6 months are in the bottle.
There are more than 125 producers, of which around 60 are viewed as particularly remarkable.
A perfect and elegant companion to game and mature cheese.
Great dishes to have with Brunello di Montalcino DOCG

Red meat

Venison

Mature cheese
Click on a topic to find more wines