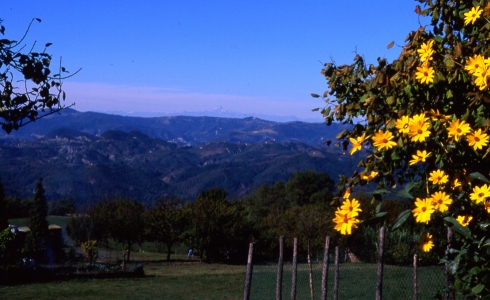 Wine:
Gattinara DOCG
Facts about this wine
Wine: Red wine
Taste: Dry
Volume: Strong
Min. alcohol: 12.5%
Mandatory Storage: Min. 3 years
Storage potential: Above 10 years


The story recounts that it was the Romans who planted the first vines around the town of Gattinara, and the wine here was once considered one of Piedmont's, or even Italy's greatest red wines, especially in the 1800s. At its peak, this red wine was the equivalent of Barolo in both density and durability, but gradually the quality decreased and the crisis was evident in the zone.
In 1990, Gattinara, however, was awarded its DOCG status and from then on great efforts have been made to rectify and return to the wine's former strength. For example, the allowed harvest is now less than that of Barolo and Barberesco, the equipment is new and shortened maceration and storage time in barrels has had a major and positive effect.
Previously, the red wines of Gattinara were known as very durable but they were also pure acid bombs. Today, the introduction of malolactic fermentation meant that wine is not so angry no, although without it has lost its familiar slightly bitter aftertaste.
The difference between Gattinara and its cousin Barolo and Barbaresco is the main grape Nebbiolo (90-100%), with the addition of Vespolina (0-4%) and / or Bonarda di Gattinara (along with Vespolina 0-10%). P >
The result of this grape blend, compared with its cousins from the south, is a wine with a little more violet and tar in the nose, a rather softer texture and a hint of bitter almond in the aftertaste. The color is garnet red with orange reflections.
Some experts believe that Gattinara would be even better if it was made from 100% Nebbiolo grape (locally called Spanna), which several producers uss. Others believe that it is simply too much to give Gattinara 4 years of aging. Opinions differ.
A barrel-aged Gattinara Riserva is also available, with a mandatory aging period of 4 years and 13% alcohol content.
Whatever the case, among the vineyards in Gattinara di Vercelli municipality there is a growing sense of self-discipline among growers which seems to bear fruit.
Mandatory aging period strong>: 3 years, of which one year in barrels. Riserva 4 years, of which 2 years in wooden barrels
Great dishes to have with Gattinara DOCG