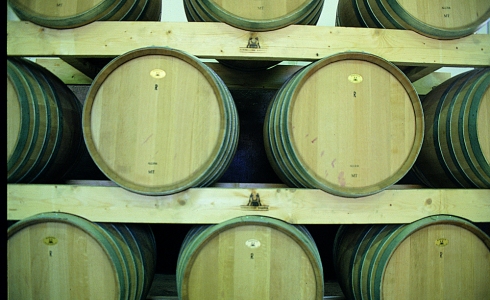 Wine:
Ghemme DOCG
Facts about this wine
Wine: Red wine
Taste: Dry
Volume: Strong
Min. alcohol: 12%
Mandatory Storage: Min. 3 years
Storage potential: Above 10 years


The Ghemme municipality is the center of a powerful red wine, which bears its name. The town lies on the river Sesia, in the Novarra province, just across Gattinara . In fact, the highway A26 separates the two districts. In this zone there is produced a wine that is often compared with the neighbor across the street, although production is somewhat smaller.
Nevertheless, Ghemme is considered just below Gattinara in status, as evidenced by the fact that it is now DOCG (1997).
The wine Ghemme is made from Nebbiolo grapes, locally called Spanna, (75-100%) with permitted addition of Vespolina and / or Uva Rara, locally called Bonarda Novarese (0-25%).
The wine has a ruby color with garnet reflections. The aroma is distinctive, classy, inviting and ethereal. This is a tasty, dry and harmonious red wine with a pleasantly bitter aftertaste.
The minimum alcoholic content is 12%.
A barrel-aged Ghemme Riserva is also available. It is also ruby red with garnet red reflections, the tasty is dry, balanced and robust while velvety with a slightly bitter tone. Minimum alcohol content is 12.5%.
Generally, Ghemme's strong and robust character slightly decreases with age, the wine developing an extremely elegant bouquet.
Mandatory aging period strong>: 3 years of which minimum 20 months in barrels then 9 months in the bottle.
Mandatory aging period for Riserva strong>: 4 years of which minimum 25 months in wooden barrels, and 9 months in bottle.
Great dishes to have with Ghemme DOCG

Red meat
Click on a topic to find more wines