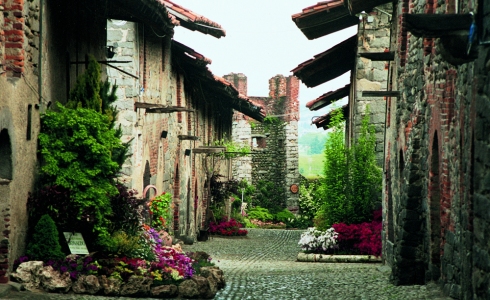 Wine:
Erbaluce di Caluso DOCG
Facts about this wine
Wine: White wine
Taste: From dry to sweet
Volume: Medium
Min. alcohol: 11.5%

Erbaluce di Caluso was elevated to DOCG in 2010 and is produced just north of the industrial city of Turin and is named after the town of Caluso. The production zone includes 33 municipalities and types is constituted by dry, semi-sweet and sweet wine.
Erbaluce is an old Piedmontse grape variety that has great challenges ahead of it. It is quite rare, and when you finally meet a bottle, it's a fairly sharp and aggressive wine. Furthermore, the producers do too little to market it to the wide audience.
The reason why this white wine has a characteristic sharpness is that the grape has a natural high acidity, and if it does not ripen perfectly, which it rarely does in this zone, it offers a rather sharp wine.
The dry Erbaluce di Caluso DOCG is a pale, straw-colored wine, with a fine vinous aroma and fresh taste, which is characteristic of the grape. It pairs well with antipasti and fish.
Erbaluce di Caluso DOCG is also available as a Passito type, a late harvested wine where the grapes is harvested in December, which is not successful every year. When it is successful, however, the Erbaluce di Caluso Passito DOCG is more accessible because the grapes of high acidity are perfectly balanced out with sweetness.
The production of Erbaluce di Caluso Passito DOCG is, however, almost microscopic, in some years only about 1,500 bottles (half bottles, mind you) have been produced. The result is, though, an amazing, golden dessert wine of great finesse with lots of aroma and notes of hazelnuts, almonds and grapes.
Erbaluce di Caluso Passito DOCG has a minimum mandatory period of aging of 4 years and must have a minimum of 13.5% alcohol content.
A sweeter, dark golden Erbaluce di Caluso Passito Riserva DOCG is also available, with an alcohol content of 17.5% and a mandatory aging period of 48 month before being released on the market. This is a delicate and velvety wine.
Finally, a fully sparkling, dry Erbaluce di Caluso Spumante DOCG is also available with mandatory 15 months of second fermentation on the bottle (Metodo Classico). Release date on November 1st the fourth year following the harvest. Preferably served with light meals.
Great dishes to have with Erbaluce di Caluso DOCG