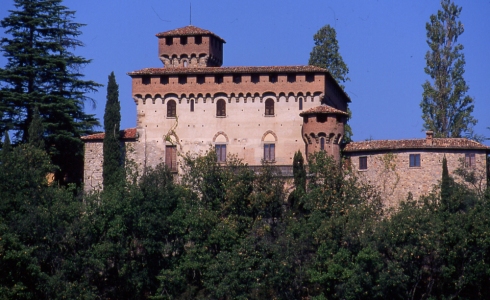 Wine:
Sizzano DOC
Facts about this wine
Wine: Red wine
Taste: Dry
Volume: Strong
Min. alcohol: 12%
Mandatory Storage: Min. 3 years
Storage potential: 10 years


Sizzano is grown in a district along the Sesia river, and along with the DOC zones Boca Bramaterra Fara Lessona Colline Novaresi and Coste della Sesia itconstitutes one of the less important zones of Novarra- Vercelli- and Biella area, north of Turin.
The wine is made from the Nebbiolo grape (locally called Spanna) (40-60%) with the permitted addition of Vespolina (15-40%) and Bonarda Novarese (local Uva Rara) (0-25%).
This red wine bears the name after the town of Sizzano, in the Novara hills. It is produced in limited quantities and is rarely seen outside Italy's borders. Although the type belongs to the lighter end of Nebbiolo scale, it is a dense and robust wine with a typical Nebbiolo bouquet.
The wine has a ruby red as a young wine, but with age it assumes a more garnet color. The scent is elegant, vinous and characteristic, with notes of violets. The taste is dry, tasty and balanced.
If you are on "wine spree" in the area, you will find that the wines tend to be lighter and more youthful, the farther south you go along the river Sesia. From good vintages, Sizzano can be stored more than a decade.
Mandatory aging: 3 years, of which 2 in barrels
Great dishes to have with Sizzano DOC