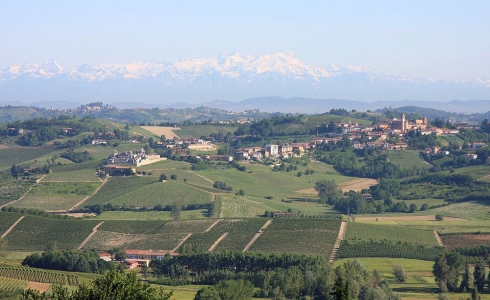 Wine:
Barbera d'Asti Tinella Superiore DOCG
Facts about this wine
Wine: Red wine
Taste: Dry
Volume: Medium
Min. alcohol: 12.5%
Mandatory Storage: Min. 2 years
Storage potential: 10 years

In 2000, 3 subzones were legally created within Barbera d'Asti DOC, namely Nizza, Tinella and Colli Astiani (or Astiano). Since the entire zone was DOCG in 2008, the three subzones were included in the bargain.
Barbera d'Asti Tinella Superiore DOCG is made from Barbera grapes (90-100%), with the permitted addition of local non-aromatic red grapes, mostly Freisa, Grignolino or Dolcetto (0-10%). The grapes are grown in the municipalities of Costigliole d'Asti, Calosso, Castagnole Lanze, Coazzolo and Isola d'Asti, however, restricted to the area on the right side of the Asti Montegrosso road.
Barbera d'Asti Tinella Superiore DOCG is a ruby red wine which turns to garnet red as it ages. The aroma is intense, distinctive and ethereal. The taste is dry, with rich body, smooth and round, often with touches of wood.
The mandatory aging period is 18 months starting with October 1st of the year following the harvest, of which minimum 6 months in barrels and 6 months in the bottle. The minimum alcohol content is 13%.
Enjoyed with ravioli, sausage, gorgonzola or other mature cheeses.
About Barbera DOC(G) wines
The label always bears the name of the zone where the wine is grown, which includes Barbera d'Alba DOC (depth and structure), Barbera del Monferrato DOC (generally the lightest and most often bubbly), Barbera del Monferrato Superiore (DOCG with greater demands for volume and alcohol) and Barbera d'Asti (DOCG, more accessible and refined).
Great dishes to have with Barbera d'Asti Tinella Superiore DOCG