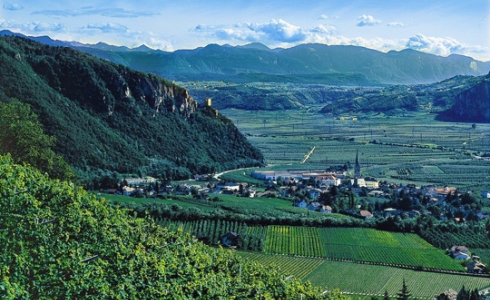 Wine:
Trentino Marzemino Riserva DOC
Facts about this wine
Wine: Red wine
Taste: Dry
Volume: Strong
Min. alcohol: 11.5%
Mandatory Storage: Min. 2 years
Storage potential: 4 years

The red wine Trentino Marzemino Riserva DOC has the same grape composition as the non-aged Trentino Marzemino DOC, namely Marzemino grapes (85-100%), with the permitted addition of local red grapes (0-15%).
Trentino Marzemino Riserva DOC is, in every way, a very interesting and typical Italian red wine, as it was even mentioned in the opera Don Giovanni, by Wolfgang Amadeus Mozart, in which the hero sings the verse "Versa il vino! Eccellente Marzemino!", which translated means "Let the wine pour! The excellent Marzemino!"
Mozart was right: Marzemino is an excellent at it should be poured – at least after 3-4 years.
The grapes used for Trentino Marzemino Riserva DOC are grown in the lower part of the Vallagrina Valley, in the municipalities of Ala, Aldeno, Avio, Besenello, Calliano, Isera, Mori, Nogaredo, Nomi, Pomarolo, Rovereto, Villalagarina and Volano. The best wines come from the area near Rovereto.
Trentino Marzemino Riserva DOC is an intense, dark ruby red wine, with violet reflections. The aroma is fruity, sometimes herbal, often with woody notes. The taste is fruity, mellow and soft, which develops a deeper and fuller body, with an almost aristocratic, almond-like aftertaste, after 2-3 years. The wine should be enjoyed after 4 years.
The minimum mandatory aging period is 2 years, starting with November 1st of the harvesting year.
The wine is a good accompaniment for red meat, roast lamb, duck, goat, or the local sausage and meat pie, Smacafam.
The storage potential is 4 years or more.
There are two very interesting red wines based on the Marzemino grape in the two newer subzones, Trentino Superiore Isera DOC and Trentino Superiore Ziresi DOC.
Great dishes to have with Trentino Marzemino Riserva DOC
Click on a topic to find more wines