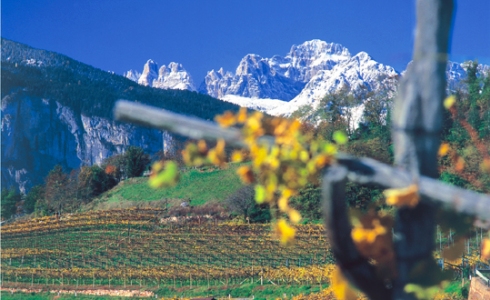 Wine:
Lago di Caldaro/Caldaro DOC
Facts about this wine
Wine: Red wine
Taste: Semi dry
Volume: Medium
Min. alcohol: 10.5%
Storage potential: 2 years

As in the case of several other wines in Trentino-Alto Adige the same wine is known under different names such as Lago di Caldaro DOC, Caldaro DOC or Kalterersee DOC.
This is a red wine produced in the mecca of windsurfers and wine lovers, known in the German-speaking world as Kalterersee. The vines are located in the most beautiful scenery possible, around the idyllic Lago di Caldaro.
Lago di Caldaro DOC is a fresh and light wine, which turns into garnet red with age. The aroma is light, with almond notes and the taste makes the wine rather enjoyable and easy to drink - or swill - as the locals enjoy it. The wine is preferably served cool and pairs well with many regional dishes of the Alps such as sauerkraut, dumplings, speck, sausages and so on. Fresh fruit is also a good accompaniment of the wine, which is usually chilled before being served.
The wine is made from the local Schiava Grosso (Vernatsch) and/or Sciava Gentile (85-100%) grape varieties, with the permitted addition of Pinot Noir and/or Lagrein (0-15%), and it reaches its highest peak within 2-3 years. Some producers consider it similar to Santa Maddalena DOC.
A Caldaro Classico DOC (Klassischer or Klassisches Ursprungsgebiet) is also produced, with the grapes being from the original zone, including the municipalities of Caldaro, Appiano, Termeno, Cortaccia, Vadena, Egna, Montagna, Ora and Bronzolo.
There is a similar Caldaro Classico Superiore DOC available, with 10.5% alcohol content and a minimum aging period of several months. The label of both Classico types could also include Alto Adige (Südtirol).
Finally, there is the Caldaro Scelto DOC (Auslese), which supposedly originates, in this case, in the late harvest grape Schiava (Vernatsch) (100%), which undergoes a special selection process, being hand-picked, and which has a minimum alcohol content of 11.5%.
The aging potential is up to 2 years.
Great dishes to have with Lago di Caldaro/Caldaro DOC

White meat

Sausages

Antipasti
Click on a topic to find more wines