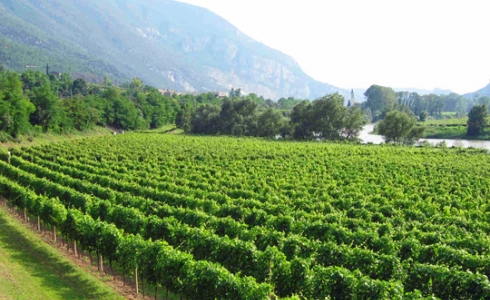 Wine:
Trentino Bianco DOC
Facts about this wine
Wine: White wine
Taste: Dry
Volume: Medium
Min. alcohol: 11%
Storage potential: No saving potential

Trentino Bianco DOC is an excellent, often oak-matured white wine, made from the Chardonnay and/or Pinot Bianco (80-100%) and Sauvignon and/or Müller-Thurgau and/or Manzoni Bianco (a hybrid of Riesling and Pinot Bianco) (0-20%) grape varieties.
The wine has a straw-yellow color and a dry, delicate and aromatic taste. The scent is appealing, harmonious and distinctive.
Best served either as an aperitif or with fish.
If the wine has 11.5% alcohol content and has been aged for at least one year, starting with November 1st of the harvesting year, then it is Trentino Bianco Riserva DOC.
However, as confusing it may seem, there is another Trentino Bianco DOC which, unlike the first type, is produced from only two varieties. The name of the dominant grape variety must always be listed first on the label, followed by the name of the additional variety. Varieties may consist in a combination of Chardonnay, Pinot Bianco, Pinot Grigio or Sauvignon, with the complementary grape variety not exceeding 25%.
Thus, a Trentino Bianco Chardonnay-Pinot Grigio DOC has a minimum 75% content of Chardonnay grape and maximum 25% Pinot Grigio grape.
Generally, Trentino Bianco DOC is a bright straw-yellow wine, with a fine and pleasant scent. The taste is dry, rich and distinctive, sometimes with woody notes.
The wine, which must have a minimum 11% alcohol content, can be enjoyed as an aperitif, but it also pairs well with soup or fish, especially with trout.
Great dishes to have with Trentino Bianco DOC