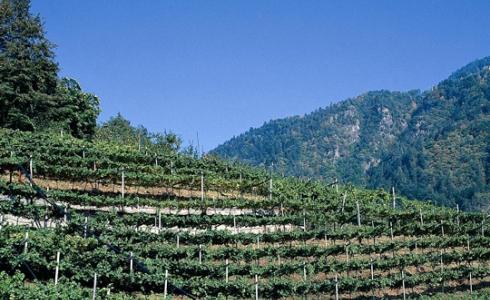 Wine:
Trentino Marzemino DOC
Facts about this wine
Wine: Red wine
Taste: Dry
Volume: Strong
Min. alcohol: 11%
Storage potential: 4 years

In the opera "Don Giovanni", Mozart lets his hero sing the verse "Versa il vino! Eccelente Marzemino!", which means "Let the wine pour! The excellent Marzemino!"
Mozart was right. Marzemino is excellent and it should be poured – but no sooner than 3-4 years of storage.
The grapes used for the wine Trentino Marzemino DOC are grown in a defined area of the lower part of the Vallagarina Valley and the main grape used is, of course, Marzemino (85-100%), with the permitted addition of other local red grapes.
Young age gives Trentino Marzemino DOC almost a Beaujolais-like charm. The wine has a ruby red color, with violet reflections, of medium intensity. The aroma is fruity, sometimes almost herbal, while the taste is full-bodied with a grape-like softness that acquires a robustness and a fuller body with an almost aristocratic, almond-like aftertaste, after 2-3 years. The wine should be enjoyed after 4 years of storage.
The best Trentino Marzemino DOC's come from the area around Rovereto.
The storage potential is 4 years minimum. The wine combines perfectly with red meat and lamb.
A barrel-aged Trentino Marzemino Riserva DOC is also available, with a minimum 11.5% alcohol content and a mandatory period of aging of 2 years.
Great dishes to have with Trentino Marzemino DOC
Click on a topic to find more wines