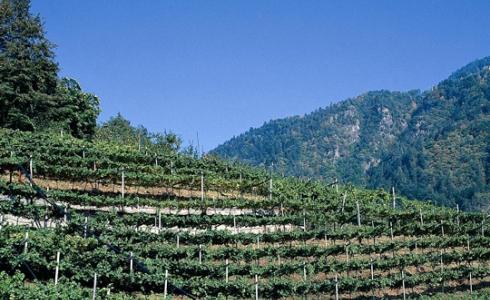 Wine:
Alto Adige/Südtiroler Moscato Rosa DOC (Rosenmuskateller)
Facts about this wine
Wine: Red wine
Kind: Sweet wine
Taste: Sweetish
Volume: Medium
Min. alcohol: 11%
Storage potential: No saving potential

Alto Adige Moscato Rosa DOC, or Südtirol/Südtiroler Rosenmuskateller DOC is a wine whose color ranges from red to bright ruby red. The scent is delicate and inviting, while the taste is typically sweet and aromatic from the Moscato grape (or Muskateller).
With its seductive scent of strawberries, elderflower, roses and nutmeg, Alto Adige Moscato Rosa DOC is considered among Italy's absolute best dessert wines.
As mentioned, the basic grape is Moscato (85-100%), with the permitted addition of local white grapes (0-15%).
The wine pairs well with salmon, oysters and liver pâté, but also with dessert.
See also Alto Adige Moscato Rosa Passito DOC, or Südtirol/Südtiroler Rosenmuskateller Passito DOC, a dessert wine vinified from dried Moscato Rosa grapes. This gives a sweeter ruby red wine, with 16% alcohol content.
If the label mentions "Vigna" (Gewächs or Wachstum), followed by the name of a place, it refers to a specific vineyard area or a "micro zone".
The Passito type is a good accompaniment of desserts or savory cheeses.
Great dishes to have with Alto Adige/Südtiroler Moscato Rosa DOC (Rosenmuskateller)