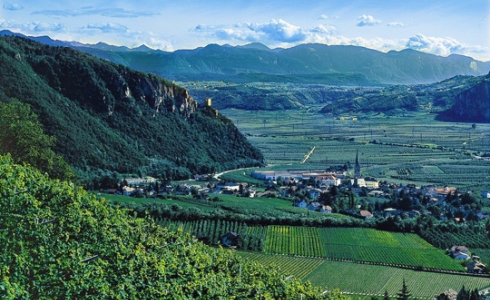 Wine:
Alto Adige/Südtiroler Lagrein Dunkel DOC
Facts about this wine
Wine: Red wine
Taste: Dry
Volume: Medium
Min. alcohol: 11.5%
Storage potential: 2 years

This red Alto Adige/ Südtiroler Lagrein Dunkel DOC, also known as Alto Adige Lagrein Scuro DOC - or simply as Alto Adige Dunkel DOC - is an intense ruby red wine and one of the most characteristic reds of Alto Adige. The wine is made from the local Lagrein Scuro grape (85-100%) with the permitted addition of local red grapes.
Depending on the producer, Alto Adige/ Südtiroler Lagrein Dunkel DOC may have a Beaujolais-like grace, or it can be a powerful, intense, complicated positive experience. If the vintage is good, the wine can be aged up to 10 years.
The wine has an intense, ruby red color, which turns into garnet as it ages. The scent is inviting, with hints of grape, and the taste is velvety and rich.
Alto Adige/Südtiroler Lagrein Dunkel Riserva DOC is also available, with a mandatory aging period of 2 years, starting on January 1st of the year following the harvest.
On he same grape combination, a rosé wine is produced. The label can bear the following names: Alto Adige Lagrein di Gries DOC, Alto Adige Grieser Lagrein DOC or Alto Adige Lagrein Gries DOC.
The aging potential of the non-aged Alto Adige Lagrein Dunkel DOC is 2 years, for the Riserva 3-4 years and even up to 10 years in the case of excellent vintage.
The non-aged type pairs well with most dishes, while the Riserva type is a good accompaniment of speck, white meat and smoked ham.
Great dishes to have with Alto Adige/Südtiroler Lagrein Dunkel DOC
Click on a topic to find more wines