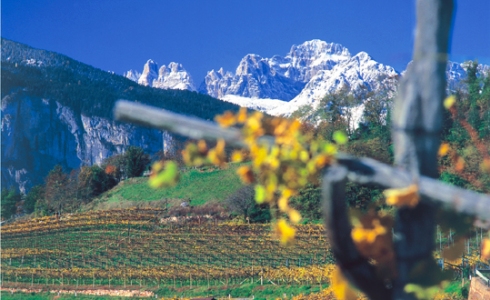 Wine:
Alto Adige/Südtiroler Traminer Aromatico DOC
Facts about this wine
Wine: White wine
Taste: From dry to sweetish
Volume: Medium
Min. alcohol: 11.5%
Storage potential: No saving potential

This white wine, also known as Alto Adige/Südtiroler Gewürztraminer DOC, though not comparable to its cousin, Gewurtztraminer from Alsace, is a very lovely, aromatic wine.
The grape composition consists of Gewurztraminer or Traminer Aromatico (85-100%), with the permitted addition of local white grapes (0-15%).
As a young wine, Alto Adige/Südtiroler Traminer Aromatico DOC is a straw green, fruity wine. After 2 years of aging, it acquires golden tones and a spicier taste. The taste is either dry or semi-sweet.
The semi-sweet type pairs well with dessert, while the dry type combines perfectly with white meat or seafood.
Great dishes to have with Alto Adige/Südtiroler Traminer Aromatico DOC

Dessert

White meat

Fish
Click on a topic to find more wines