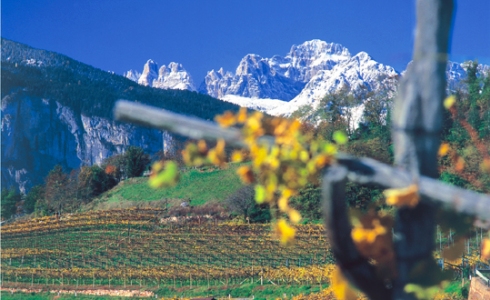 Wine:
Alto Adige Cabernet-Lagrein DOC
Facts about this wine
Wine: Red wine
Taste: Semi dry
Volume: Medium
Min. alcohol: 11.5%
Storage potential: 3 years

Alto Adige Cabernet-Lagrein DOC is a red wine made from Cabernet Sauvignon and/or Cabernet Franc and Lagrein grapes. The dominant grape is always mentioned first on the label and only 85% of it can be included in the wine composition, while the secondary grape has a proportion of maximum 15%.
This is an intense ruby red wine, with a characteristic, grassy and ethereal scent. The taste is dry, soft and slightly tannic.
This type can also be found under the name Südtirol/Südtiroler Cabernet-Lagrein DOC. A barrel-aged Alto Adige Cabernet-Lagrein Riserva DOC is also produced.
If the label mentions "Vigna" (Gewächs or Wachstum), followed by the name of a place, it refers to a specific vineyard or a "micro zone".
The wine combines perfectly with sausages, venison, roast meat and semi-hard or hard cheeses.
Great dishes to have with Alto Adige Cabernet-Lagrein DOC
Click on a topic to find more wines