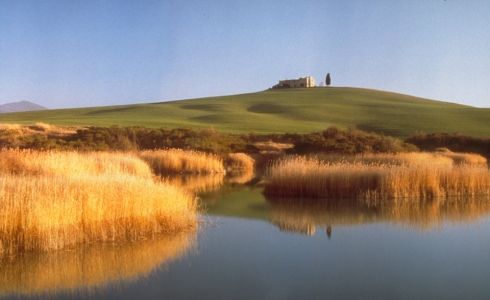 Wine:
Vin Santo di Carmignano DOC
Facts about this wine
Wine: Red wine
Kind: Sweet wine
Volume: Medium
Min. alcohol: 16%
Mandatory Storage: Min. 3 years
Storage potential: 10 years


In 1983, the DOC wines in Camignano were expanded with a Vin Santo. The type is either Secco or Amabile and are produced from the grapes Trebbiano Toscano and/or Malvasia Bianca Lunga (min. 75%) with permission to use specially selected, local green grapes from the Prato province.
After plucking, the grapes are dried on straw mats or shelves in custom houses, and the pressing is done between December 1 of the harvest year, and March 31 of the following year.
Vin Santo di Carmignano ranges from straw yellow to golden to an intense amber. The aroma is ethereal, intense and characteristic. The taste is harmonious, smooth and specially, markedly round in the sweet Amabile.
The minimum alcohol concentration is 16%.
Enjoyed with desserts or as an aperitif
There is also an Vin Santo di Carmignano Riserva with a longer aging requirement.
The mandatory aging period: 3 years in 'caratelli', small, oak barrels; Reserve 4 years
Shelf life: 10 years or more