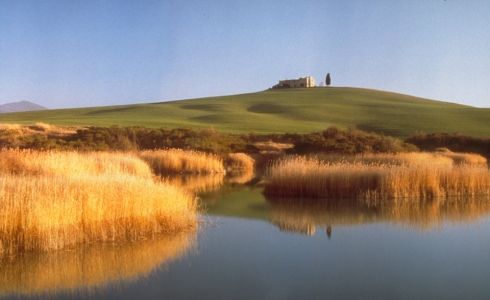 Wine:
Barco Reale di Carmignano DOC
Facts about this wine
Wine: Red wine
Taste: Dry
Volume: Medium
Min. alcohol: 11%
Storage potential: 4 years

When the wine and region Carmignano became an independent DOCG in 1991, they expanded the remaining DOC list with the red Barco Reale di Carmignano. The grape varieties are the same as in its big brother, but without big brother's mandatory aging requirements.
Barco Reale di Carmignano is named after Medici park, which used to cover the majority of the Carmignano region, and was that time enclosed by a more than 31 mile-long wall.
This red wine is made from Sangiovese (50-100%), Canaiolo Nero (0-20%), Cabernet Sauvignon and/or Cabernet Franc Canaiolo (10-20%), Trebbiano Toscano and/or Canaiolo Bianco and/or Malvasia del Chianti (0-10%). The last 3 grape varieties must come from the Prato province.
Barco Reale di Carmignano is a lively, clear ruby red wine, with a vinous aroma and intense, fruity touches, together with a delightfully dry, fresh, ample and harmonious taste. A fresh and delightful wine at a reasonable price.
Read more about its big brother, Carmignano DOCG.
This region also produces a Rosato di Carmignano and two types of dessert wine, Vin Santo di Carmignano and Vin Santo di Carmignano Occhio di Pernice.