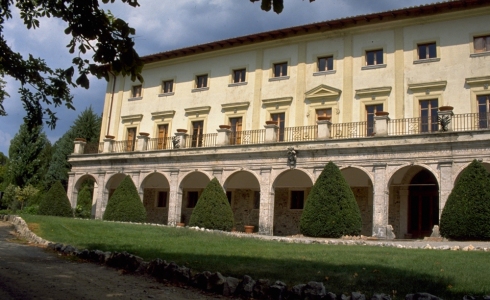 Wine:
Carmignano DOCG
Facts about this wine
Wine: Red wine
Taste: Dry
Volume: Medium
Min. alcohol: 12.5%
Mandatory Storage: Min. 2 years
Storage potential: 7 years


This area's history can be traced back to around the years 800 - 500 B.C., when Etruscans, as they usually did, produced wine, but it's first in the 1300 and 1400s that there are indications that this soil could produce great quality. At least documents from that period show that Carmignano's wine cost 3-4 times as much as all other wine.
From the 15 to the 1700s, the nobility threw themselves into wine cultivation, and most unpatriotically planted the French vine varieties of Cabernet Sauvignon, Cabernet Franc and Merlot. In 1716, Grand Duke Cosimo III de' Medici selected Carmignano as an area with wine of exceptionally high quality.
A beautifully wasted effort. As the years went by, Carmignano became more and more sad and bland, and at last the red wine disappeared as an independent type and was combined with the rest of the area's wine around the mountain Montalbano. This has later become a subzone under Chianti DOCG, and today is called Chianti Colli Montalbano.
Change requires enthusiasts, and fortunately they were to be found in Carmignano. After hard work and great opposition from the Chianti Colli Montalbano association, a group of wine folk, including the comune's enthusiastic mayor, finally succeeded in twisting the authorities' collective arm, and in 1975, Carmignano received its own, independent DOC.
Beginnings are hard, and the first Carmignano DOC wines were, to put it mildly, rather weak with their mandatory 10-20% green grapes and very low concentration of Sangiovese, the very grape that should have given the wine power and quality.
The first serious leap in quality actually first came when Carmignano became DOCG in 1991, and one of the reasons why was that they really tightened up on production regulation and allowed the use of Cabernet and Merlot varieties, and a newer generation of wine producers took advantage of that.
The result was a more ample wine that was sweeter and fatter, due in no small part to aging in barriques, small oak barrels, together with new cellar techniques. The producers of the old guard still prefer the slightly lighter style, where it's the bottle aging that gives the wine the opportunity to unfold.
The style can vary quite a bit amongst the producers, but that can also be an exciting focus for a Ph.D. At any rate, Carmigano DOCG is a wine with a very high average quality level, and it always provides an interesting experience.
The grape composition is Sangiovese (50-100%), Canaiolo Nero (0-20%), Cabernet Sauvignon and/or Cabernet Franc (10-20%), Trebbiano Toscano and/or Canaiolo Bianco and/or Malvasia del Chianti (0-10%).
The wine has a lively and intense ruby red color, with a tendency towards garnet with aging, a vinous aroma with intense hints of violets. The taste is dry, ample, balanced and velvety. With aging, Camignano develops a greater finesse.
The minimum alcohol concentration is 12.5%, and the wine is released for sale after June 1 of the second year after the harvest. The mandatory aging period is a minimum of 18 months and must be in either oak or chestnut wood barrels.
There is also a Carmignano Reserve, where the aging requirement is 3 years, of which 12 months must be in oak or chestnut barrels. It is released September 29 of the third year after the harvest, the holiday for Archangel St. Michael, the patron saint of Carmignano.
Mandatory aging: 18 months in oak or chestnut barrels; Reserve 3 years.
Shelf life: 7-9 years