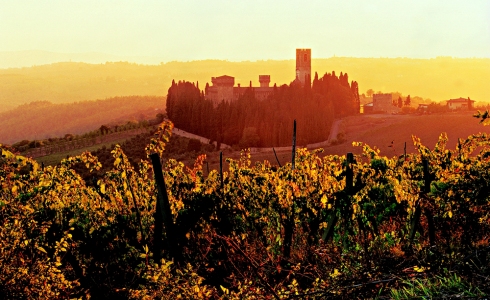 Wine:
Monteregio di Massa Marittima Vin Santo DOC
Facts about this wine
Wine: White wine
Kind: Sweet wine
Taste: From dry to sweetish
Volume: Strong
Min. alcohol: 16%
Mandatory Storage: Min. 3 years
Storage potential: 6 years

Here we have the mandatory, Tuscan Vin Santo type. The grape composition consists of Trebbiano Toscano and/or Malvasia (70-100%). Local green grapes may also be added (0-30%).
The grapes dry naturally on special drying lofts or custom ventilated rooms, and the drying must take place between December 1 of the harvest year and March 31 of the following year.
Monteregio di Massa Marittima Vin Santo DOC is a golden dessert wine, and the color ranges from straw yellow to golden yellow to an intense amber color. The aroma is ethereal, intense and characteristic, while the taste is harmonious and smooth.
The wine is available in a dry and sweet version. The latter is especially round and smooth.
The mandatory aging period is 3 years in small, Tuscan oak barrels (Caratelli).
There is also a Reserve type, where the mandatory aging period is 4 years in Caratelli.
Enjoyed as a dessert wine or an after-dinner drink.
Great dishes to have with Monteregio di Massa Marittima Vin Santo DOC

Dessert

Quiet moments
Click on a topic to find more wines