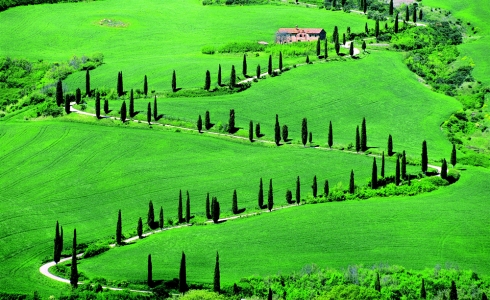 Wine:
Colli dell'Etruria Centrale Bianco DOC
Facts about this wine
Wine: White wine
Taste: Dry
Volume: Medium
Min. alcohol: 10%
Storage potential: No saving potential

Colli dell'Etruria Centrale Bianco is a white wine consisting of a combination of a good number of grapes: Trebbiano Toscano (50-100%) and Chardonnay and/or Pinot Bianco and/or Pinot Grigio and/or Vernaccia di San Gimignano and/or Malvasia del Chianti and/or Sauvignon (0-50%). Lastly, it is permitted to add local green grapes from Tuscany.
This grape combination produces a straw yellow white wine with flecks of green. The aroma is delicate and fruity, and the wine is well-tasting, fresh, lively and balanced.
Goes well with everything good from the sea, and not necessarily limited to the Mediterranean. Lighter dishes are good choices too./a good alternative
Great dishes to have with Colli dell'Etruria Centrale Bianco DOC