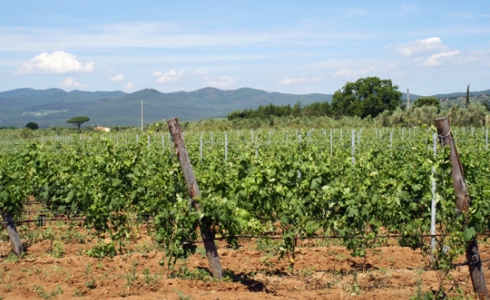 Wine:
Bolgheri Rosso DOC
Facts about this wine
Wine: Red wine
Taste: Dry
Volume: Strong
Min. alcohol: 11.5%
Mandatory Storage: Min. 2 years
Storage potential: 4 years

Bolgheri Rosso is primarily about Cabernet Sauvignon (10-80%), Merlot (max. 70%) or Sangiovese (max. 70%), with permission to use other, local red grapes (0-30%).
You can say that the large portion of Cabernet is at the cost of the otherwise, in Tuscany, ubiquitous Sangiovese, which here is relegated to second fiddle. This isn't, however, due to a lack of quality, but rather that the grape just doesn't thrive in the Bolgheri zone.
Bolgheri Rosso is a dark, ruby red and is capable of achieving great things, especially in the Superiore version. With age, it becomes more garnet in color. The aroma is intensely vinous and the taste dry, harmonious and balanced. The minimum alcohol concentration is 11.5%.
Mandatory aging period: Superiore 2 years in oak barrels, followed by 6 months in the bottle
Shelf life: 3-4 years; Superiore 5 years
Great dishes to have with Bolgheri Rosso DOC