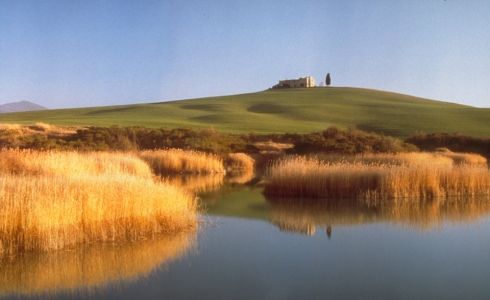 Wine:
Bianco dell'Empolese Vin Santo DOC
Facts about this wine
Wine: White wine
Kind: Sweet wine
Taste: From dry to sweetish
Volume: Strong
Min. alcohol: 15%
Mandatory Storage: Min. 3 years
Storage potential: 10 years

From the same grapes as the drier Bianco dell'Empolese there is also produced a Vin Santo, and thus the grape combination in Bianco dell'Empolese Vin Santo DOC is Trebbiano Toscano (80-100%) together with local green grapes (0-20%). If Malvasia del Chianti is used, there can only be a maximum of 8% of this variety.
The Vin Santo distinguishes itself color-wise from the drier version by ranging from golden to a more or less intense amber color. The aroma is likewise intense, ethereal and characteristic, while the taste is either dry or sweetish.
Vin Santo is available in two versions: The dry (Secco) must have a minimum alcohol concentration of 16%, while the sweet (Amabile) must have 15%.
The mandatory aging period is 3 years in small oak barrels (caratelli).
Vin Santo is enjoyed with desserts.
Great dishes to have with Bianco dell'Empolese Vin Santo DOC

Quiet moments

Dessert
Click on a topic to find more wines