Other Zones in Lazio
Info about Italian Wine Guide
Regions: 20 Zones: 172 Types of wine: 1283 Words in dictionary: 145

Wine

for

Grilled dishes

?
We've found 76 wine(s) in our Italian Wine Guide which are good for Grilled dishes.
Read more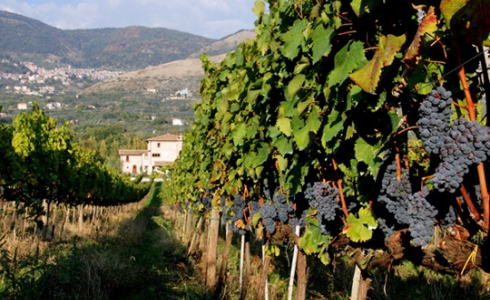 Wine:
Frascati Superiore Riserva DOCG
Facts about this wine
Wine: White wine
Taste: Dry
Volume: Medium
Min. alcohol: 13%
Mandatory Storage: Min. 1 years
Storage potential: No saving potential

In 2011, just before the European Union (EU) took over the authorization of classification of Italian wines, among other things, the white wine Frascati Superiore DOC was elevated to DOCG, and on that occasion it had its vinification and grape composition adjusted. The promotions was accompanied by tighter production conditions, yield restrictions and higher alcohol content. The result is a slightly richer, more powerful wine with greater concentration of scent and flavor.
The production area is centered around the municipalities of Frascati, Grottaferrata and Monte Porzio Catone, as well as parts of Rome and Montecompatri.
Frascati Superiore Riserva DOCG has the same grape composition as Frascati Superiore DOCG and generally as the basic Frascati DOC wines, namely Malvasia Bianca di Candia and/or Malvasia del Lazio (Malvasia Puntinata), both making up at least 70% of the blend, with the permitted addition of Trebbiano Toscano grapes and/or Greco Bianco and/or Trebbiano Giallo and/or Bellone and/or Bombino Bianco grapes (0-30%), as well as local, non-aromatic white grapes (maximum 15%).
Frascati Superiore Riserva DOCG is a more or less intense straw-colored white wine, with an intense, distinctive, perfumed and delicate scent and a dry, soft, comfortable, inviting and elegant taste. If barrels have been used in the vinification process, the wine may have notes of these in the aftertaste and in the scent.
Mandatory aging period is 1 year beginning on Nov. 1st of the harvesting year. At least 3 months of bottle refinement is required.
Great dishes to have with Frascati Superiore Riserva DOCG
Click on a topic to find more wines