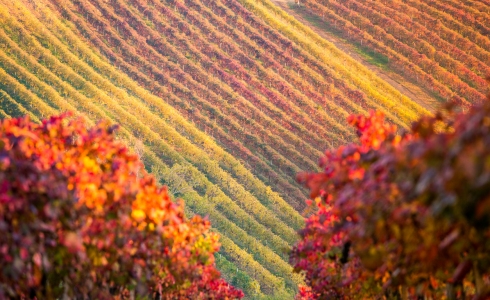 Wine:
Lambrusco di Modena DOC
Facts about this wine
Wine: Red wine
Kind: Fra stille til mousserende
Taste: Semi dry
Volume: Medium
Min. alcohol: 10.5%
Storage potential: 1 year

The grapes used for this slightly sparkling Lambrusco di Modena DOC must be grown in the province of Modena and consist of the following varieties (85-100%): Grasparossa Lambrusco, Lambrusco Salami, Lambrusco di Sorbara, Lambrusco Marani, Lambrusco Maestri, Lambrusco Montericco, Oliva Lambrusco – used alone or with the permitted addition of Ancellotta grapes, Malbo Gentile and/or Fontana (Uva d'Oro) grapes (up to 15%).
Lambrusco di Modena DOC has lively and volatile foam. The color is a more or less intense ruby red or garnet red, the scent is delicate, with distinctive floral notes, and the taste is fresh, fruity, intense and balanced with good body.
The wine is also produced as a rosé, called Lambrusco di Modena Rosato DOC, as well as a fully sparkling type, Lambrusco di Modena Spumante DOC.
The wine can also be found under the name Modena Lambrusco DOC.
Great dishes to have with Lambrusco di Modena DOC