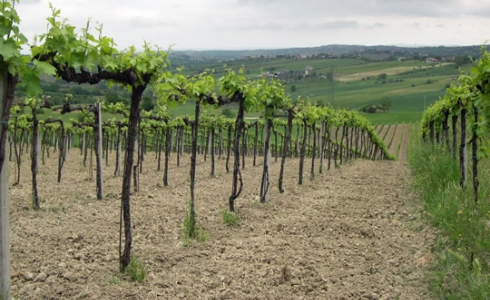 Wine:
Sangiovese di Romagna Superiore DOC
Facts about this wine
Wine: Red wine
Taste: Dry
Volume: Medium
Min. alcohol: 12%
Mandatory Storage: Min. 6 mos.
Storage potential: 6 years

Denne rødvin fra Emilia-Romagna produceres på samme druer som den ulagrede Sangiovese di Romagna. Forskellen på de to er, at druerne skal have groet i stærkt afgrænsede områder og holde minimum 12% alkoholstyrke.
De fleste italienske vin-freaks vil genkende druen Sangiovese fra Toscana, hvor den spiller en afgørende rolle i adskillige af regionens vine. I Emilia-Romagna kan Sangiovese (85-100%) kun i få tilfælde måle sig med naboregionens bud på vine fra denne drue, men så gør de det til gengæld også godt.
I forhold til fætrene fra Toscana mangler Sangiovese di Romagna lidt i struktur og kompleksitet, men til gengæld har nogle af dem en større fylde takket være mere syre og rundere tanniner, specielt i disse Superiore-versioner.
Sangiovese er den vin, som ligger nærmest Romagnas hjerte. Vinen dyrkes primært i et stort område sydøst for Bologna og ud mod Adriaterhavet, hvor resultatet er en rubinrød vin som med alderen får en tendens til purpur. Smagen er vinøs med delikate strejf af violer. Den er tør med et strejf af bitterhed i finalen.
Etiketten kan forvirre vinkøberne, idet Sangiovese-typerne varierer fra område til område og kan optræde under lokale navne som f.eks. Allegro, Gentile, Forte og Nobile.
Sammenfattende kan det siges, at et voksende antal producenter kæmper for at hæve deres Sangiovese op over middelmådigheden, men desværre modarbejdes de af kollegaerne i den anden ende af skalaen, som gør hvad de kan for at hindre vinen i at nå dens ubestridelige potentiale.
Obligatorisk lagring minimum 6 måneder.
Se også typen Sangiovese di Romagna Riserva.
Great dishes to have with Sangiovese di Romagna Superiore DOC
Click on a topic to find more wines