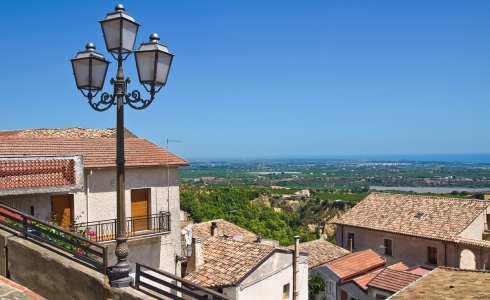 Region:
Calabria
Calabria has a long and proud history of winemaking. Legend has it that the vineyards which covered the coastal hills of the region inspired the ancient Greeks to mint their coins with the title 'Oenotria', the land of wine. It's also said that Calabrian athletes at the ancient Olympic games toasted their triumphs with Krimisa. This wine is thought to be identical to that found today, making it one of the oldest known wines in Europe.
There are many of these legends about Calabrian wine and while always interesting to hear, the future of winemaking in the region is, however, less than exciting. The cause seems to be lack of foresight. "Why worry about it?" appears to be the attitude, "Customers will buy the wine regardless." One reason may be the region's economic dependence on the intense cultivation of other fruits and vegetables - olive oil, citrus fruit, grain along with tomatoes, aubergines and bell peppers take precedence.
This lack of foresight is lamentable given Calabria's enormous potential. The picturesque uplands provide ideal conditions for vine cultivation. The best known red from the region is Cirò DOC and this may well be the cause of the nearsightedness. The widespread success of Cirò has given rise to a resigned acceptance of the status quo.
In response to international demand for white wine, however, some dedicated and forward thinking producers have begun developing new varieties and there are some signs that the red wines may soon follow suit, though there are few of them as yet. This can be partially explained by poor equipment and lack of knowhow, Calabria being Italy's poorest region. But fortunately, something is happening.
Despite a number of good producers and excellent wines, the majority would rather relive past glories. Calabria has 12 DOC wines but the region's wine making future is perhaps to be found somewhere else. Interestingly, Calabria has more IGT wines than DOC. The broader regulations governing IGT production and enhanced possibilities might point to the region's future. Worth keeping an eye on.
Read more about the wines from Calabria by clicking i the top menu in the right side.