Other Zones in Calabria
Info about Italian Wine Guide
Regions: 20 Zones: 172 Types of wine: 1283 Words in dictionary: 145

Wine

for

Stews

?
We've found 189 wine(s) in our Italian Wine Guide which are good for Stews.
Read more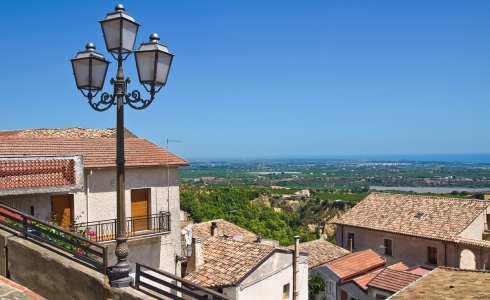 Wine:
Lamezia Rosso Riserva DOC
Facts about this wine
Wine: Red wine
Taste: Dry
Volume: Medium
Min. alcohol: 12%
Mandatory Storage: Min. 3 years
Storage potential: 6 years

As with the unaged Lamezia Rosso, this riserva is made with the grapes Nerello Mascalese and/or Nerello Capuccio (30-50%), Gaglioppo and/or Magliocco (25-35%), Greco Nero and/or Marsigliana (25-35%) as well as other authorised varieties.
As with its little brother it has difficulty distinguishing itself above average quality. This can partly be blamed on the Thyrrenian micro-climate and use of the Sicilian grape, Nerello Mascalese, which gives a light wine of lightweight character.
Quality has, however, been raised significantly in recent years, primarily by moving cultivation further away from the coast. This has benefited both Lamezia Rosso and Riserva.
This wine has a dark cherry colour and acquires a ruby red tint with age. It has a delicate, inviting fragrance, at times very fruity and its taste is dry with good body and balance. Can be very soft.
Obligatory aging is 3 years, of which six months must be barrel aging. Followed by 6 months bottle aging.
Can be stored for 6 or more years.
Great dishes to have with Lamezia Rosso Riserva DOC
Click on a topic to find more wines