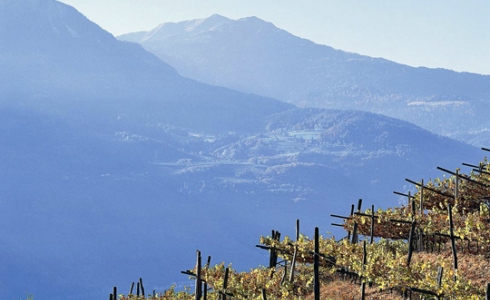 Wine:
Teroldego Rotaliano Rosso (Rubino) DOC
Facts about this wine
Wine: Red wine
Taste: Dry
Volume: Medium
Min. alcohol: 11.5%
Storage potential: 4 years

Although the red wine Teroldego Rotaliano Rosso DOC can be a very youthful, fruity and fresh, most by connoisseurs prefer it when it's dark ruby red, robust and structured in taste. In the latter case, it has aging potential.
Teroldego Rotaliano Rosso DOC, which also appears under the name Teroldego Rotaliano Rubino DOC, is an intense ruby red color with purple reflections. The aroma is fruity, sometimes very pronounced, and the taste is dry, with a slightly bitter aftertaste, with notes of almonds.
After a few years of aging, Teroldego Rotaliano Rosso DOC has good body and is pretty acidic, making it comparable to the best wines in northern Italy. After 2-3 years, the wine obtains a floral, herbal bouquet, with hints of berries, and a slightly bitter aftertaste. After 6-7 years, it finally reach its full strength, however, in rare vintages, it evolves over a decade or more.
Minimum alcohol content is 11,5% and the average storing potential is 3-4 years depending on producer and vintage.
Goes well with game, casserole, polenta. The locals enjoys it to roasted kid (goat).
With higher alcohol content, a Teroldego Rotaliano Superiore DOC is also produced, a barrel-aged Teroldedo Rotaliano Superiore Riserva DOC and finally the rosé wine Teroldego Rotaliano Rosatp DOC (Kretzer). 
Great dishes to have with Teroldego Rotaliano Rosso (Rubino) DOC
Click on a topic to find more wines