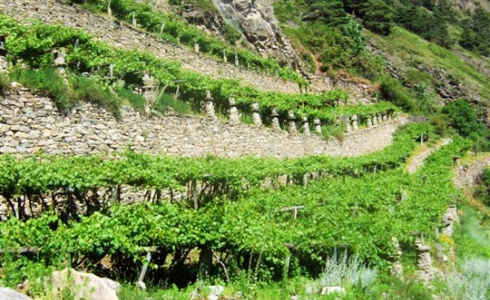 Wine:
Valle d'Aosta Torrette Superiore DOC
Facts about this wine
Wine: Red wine
Taste: Dry
Volume: Strong
Min. alcohol: 12.5%
Mandatory Storage: Min. 8 mos.
Storage potential: 10 years

Valle d'Aosta Torrette Superiore is, like its little brother, the less-aged Valle d'Aosta Torrette DOC, an excellent red wine primarily produced from Petit Rouge (70-100%), but can also include Gamay, Dolcetto , Pinot Nero, Vien-de-Nus, Fumin, Mayolet and/or Premetta (0-30%).
Valle d'Aosta Torrette Superiore DOC is cultivated on both sides of the Aosta valley, and the best wines come from the areas around St. Pierre, Sarre and Aymavilles.
This is an exceptionally elegant red wine, which transforms a nice robustness to a wine with a nice bouquet. The color ranges from ruby red to garnet and the aroma is reminiscent of wild roses, and later develops a slightly bitter background.
Mandatory aging is 8 months, and the shelf life is, at times, up to 10 years.
Great dishes to have with Valle d'Aosta Torrette Superiore DOC
Click on a topic to find more wines