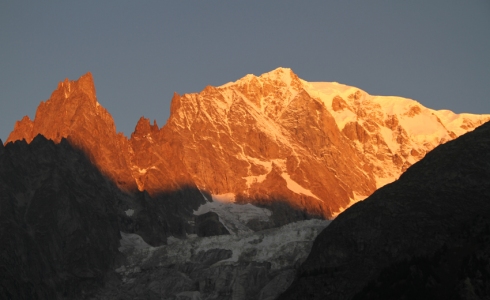 Wine:
Valle d'Aosta Blanc de Morgex et de La Salle DOC
Facts about this wine
Wine: White wine
Volume: Medium
Min. alcohol: 9%
Storage potential: No saving potential

The white wine, Valle d'Aosta Blanc de Morgex et de La Salle DOC, is cultivated on some of the highest vineyards in the world, about 3300 to 4300 feet above sea level, by the villages of Morgex and La Salle, near the ski area, Courmayeur.
The grape used for this wine is Blanc de Morgex (100%), also called Prié Blanc.
The color is straw yellow, with a tendency towards a greenish yellow. The aroma is delicate with hints of mountain herbs, while the taste is freshly acidic, at times slightly bubbly and can be extremely inviting.
The minimum alcohol concentration is 9% and mandatory aging is 2 months.
If the grapes are allowed to slightly dry on the vines, the result is a late-harvested wine with a golden yellow color and an inviting, delicate and characteristic bouquet. The taste is either demi sweet or sweet, full and harmonious.
The drier version goes well with fish, whereas the sweetish and sweet versions are well suited for desserts and should be consumed young.
There is also a Spumante version.
Great dishes to have with Valle d'Aosta Blanc de Morgex et de La Salle DOC