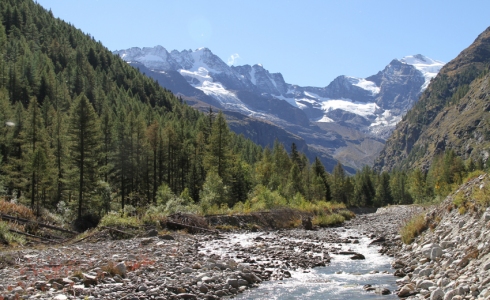 Wine:
Valle d'Aosta Donnas DOC
Facts about this wine
Wine: Red wine
Taste: Dry
Volume: Strong
Min. alcohol: 11.5%
Mandatory Storage: Min. 2 years
Storage potential: 5 years

Valle d'Aosta Donnas DOC is a well-established red wine from the Nebbiolo grape (85-100%), with permission to add Freisa and/or Neyret (0-15%). Although, it can't quite live up to its mammoth-sized cousin, Barolo from Piemonte.
The wine is cultivated near the city of Donnas in the bottom part of the valley surrounding the city.
The color is ruby red with garnet reflections. It has a fine, characteristically spicy nose, and a velvety, harmonious taste on a slightly bitter background.
Mandatory aging is a minimum 2 years, of which at least 10 months is in the barrel, and it has a shelf life of 5 years or more.
There is also a Superiore version.
Great dishes to have with Valle d'Aosta Donnas DOC
Click on a topic to find more wines